#22
10 years ago
Nah. It's baseJA. No scripting involved.
---
#23
10 years ago
I'm going to assume you made a crate into an NPC, then.
Creative solution, I'll give you that. :don:
---
I don't know how, and I don't know why, but this is totally Sheep's fault.
#24
10 years ago
Yup. Sad thing is, it's rigged to the humanoid skeleton, so it tends to wiggle around when it's supposed to be still. I made another crate with a new skeleton, but that doesn't tumble as it flies through the air.
---
#25
10 years ago
Maybe you could still use the humanoid skeleton but a modified gla or something like that?
---
#26
10 years ago
Nah, I just need to make an animation for it. The humanoid skeleton has a tumbling animation, so if I manage to get Dragon to stop screwing around with me and finally let me open that bloody console, I could easily throw something together. Whether or not it'll work is a whole 'nother matter.
---
27th August 2008
0 Uploads
#27
10 years ago
Sorry, I won't answer at all posts at once.
tdawg2099;4608635Im in right? I mean can I be on the "team"?[/quote]

Yes, you're in!

Unsunghero;4608649I'll probably make some other TFU stuff once I A) Finish Galen B) Get less school work (been having a lot recently)[/quote]

That's good! Looking forward to your work :)

[quote=byrdface;4608763]Do you have a website? this seems like an awesome conversion. I would like to help but i can only skin or do a little bit of graphic designing.

i could make you a invision free site. If you want.

There's no website until now, but Armarok PM'ed me and said that he can set one up for free...

[quote=Schrödinger;4608881]You do realize we didn't let you use V1 in your mod? So unless you're speaking of V2 which isn't done yet then you can't include our work.
Yes I know and tdawg2099 please don't call him "b**ch"... :rolleyes: There WON'T be a release of the Mod with V1.... With "Currently I'm using ....." I meant, that I use it for myself. Sorry if I don't said that clearly enough.
:bows:
---
#28
10 years ago
man the release of the V2 ? with this ?
Spoiler:
Show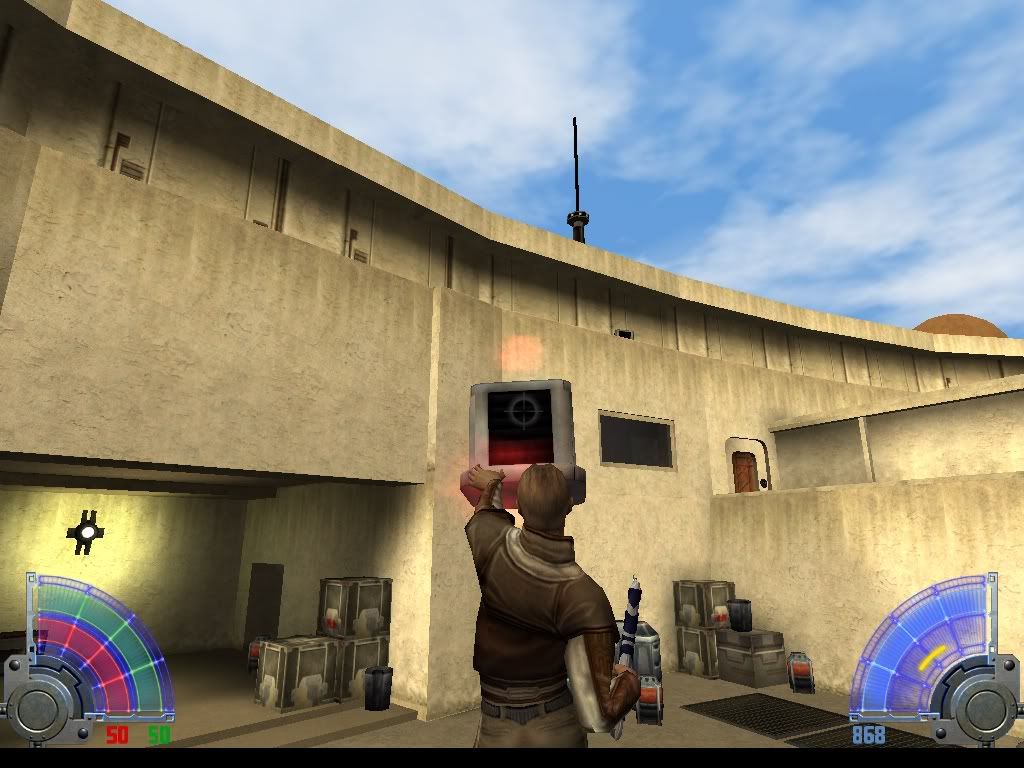 ---
#29
10 years ago
my english is low i'm brazilian
---
27th August 2008
0 Uploads
#30
10 years ago
Armarok;4608882Seems very nice, I might be able to help with mapping if you need any, need to take a look to see what those maps you need look like again.[/quote]

Thank you! Tell me which levels you want to build.

The Soleutator;4608905

That being said, from what I've seen, apart from a good physics engine, JKA should be fairly capable of copying TFU. ....but I don't want to see this thread turn into a fight about it.[/quote] That's exactly my opinion...

[quote=Mikouen;4608959]Can I just point out, that if you strip away TFU's gameplay, what you're left with simply is not worth bothering with? .... Some games cannot be taken out of their element and translated to a different style, because that style is all they have. If you want to play and enjoy TFU, then the only way to do it, is by playing TFU.

From an artistic point of view, what you're doing is desecration of an overall end product that many people slaved to create; from a business perspective, if people download this mod rather than play TFU, it's going to kill LucasArts' profits; and from a gameplay experience, you're tearing away an overall shallow and simplistic yet still relatively fun (for a while, at least, depending on your tastes in gaming) gaming experience.

.... Even if you do go ahead, you're not fuckin' with an abandonware product like DF/DF2JK, you're messing with a current release, a game that was released less than a fortnight ago.

I mean, no offense dude, but did you hit your head or something? Are you trying to get sued? I mean, no one out there in the world would be ballsy enough to start cutting in on products that haven't even hit five percent of their lifetime sales capacity, let alone LucasArts products.

You're either very brave, or very stupid, but take my word for it that this will end in tears one way or the other.

....

....

So you want to say that making this mod is illegal???? But why? There's a Mod for Battlefront 2 which ports ALL the Battlefront 1 maps, models, etc. into Battlefront 2, so that you're able to play Battlefront I and II without buying Battlefront 1.... So that must be illegal too, or not?

What about the Dark Forces Mod for JKA? That must also be illegal or not? Okay, Dark Forces is older than TFU... so when I wait for example 1 year until I'll release my Mod, then it's not illegal, right? How long do I have to wait?

I don't want to kill Lucasarts' profits! I'm not saying "I won't waste money for TFU..." I bought a X-Box 360 ONLY because I wanted to play the game...

[quote=Jose Carlos;4608967]While I'm not all head over heels in love with TFU, I still think there are some things that could be translated over to JA with a little jiggery-pokery. Like the increased knockback (which unfortunately affects everything that has knockback). Also, if you're gonna go through with making the mod, you'll need these:

Spoiler: Show
Yes, I wanted to include throwable objects and droids as well. :naughty:
---