#1
11 years ago
So further i toke part in a team. Our goal was to make a Naruto mod for JA, We have failed. I was a mapper or something like that. I started to make some maps, but i didind finished them. Last week i found my old work, I Would like to show them for u guys. Its a beginner work, so dont be so exited :D If u guys wanna i shall contunie the work and complete this map. So here i attach the pictures. Enjoy.... (everything is WIP , and untextured)
---
#3
11 years ago
hmmmmm nice for a first map is it supposed to be nightime or not ?
;)
BTW that blue city is that supposedto be the city while Sasuke is captured in Itachi's mangekyou sharingan ? where he relives the day when Itachi killed his and sasukes parents ?
---
#4
11 years ago
yeah, there will be a night version of the map, the blue thing is just a random building :D, i woill be grateful when somebody, could give me some, idees and information, pictures from konoha and etc.
---
#5
11 years ago
guess i can help you out (just open the spoiler it contains the pics and not spoilers incase you dint know) but i also advice you to watch Naruto Shippuuden: Bonds cause it show's alot of the city aswell
Spoiler:
Show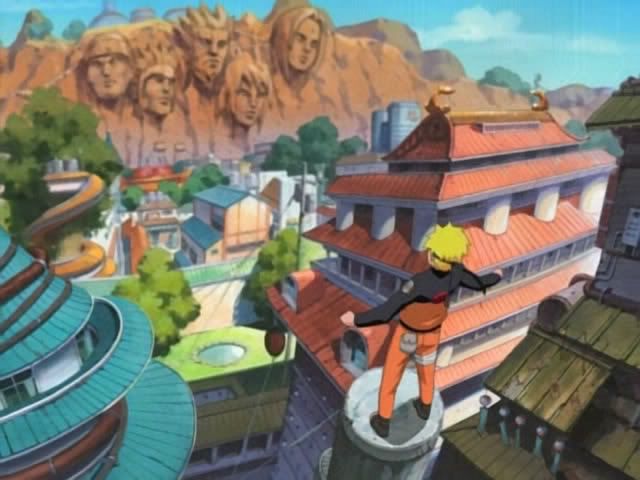 about the map it looks good so keep it up
---
#6
11 years ago
thanks for, the pics, i'will continue it, firt i think i will draw the whole thing on paper, the idees etc, then i will search textures, or ( make textures) I'm searching for a modeller, for some items for the map, so thanks for all
---
#7
11 years ago
Work from the heads, to the Hokage Building, and then keep working your way back.
---
16th March 2006
0 Uploads
#8
11 years ago
personally i'd use the naruto for the xbox 360 as a basis for the town, and work from there, i've thought about it myself, but i dont have the resources to make all these colorful maps
---