#1
11 years ago
[INDENT]Could I get this modeled? Just a humanoid bunny, pretty much. And, if it's not too much trouble, can it be SP-selectable, with the fur color-selectable? Thanks. And... like I said, it's humanoid. :D
[/INDENT]
---
15th March 2005
0 Uploads
#2
11 years ago
:rofl: That's going to need to be significantly altered to be a reasonable player model.
---
#3
11 years ago
Yeah, but I worship Wookieepedia :P And it says they can stand upright, so I'm thinking it'll mildly resemble the MogMod model, just... not so much. That was kind of a weird sentence... :rolleyes:
---
18th December 2004
0 Uploads
#4
11 years ago
..that might be a bit tricky, unless there's a pictue with it on two legs, and has two arms
---
#5
11 years ago
[INDENT]Got a pic of it on 2 legs... and a height scale for it but since it's a model I don't think it'll be any help.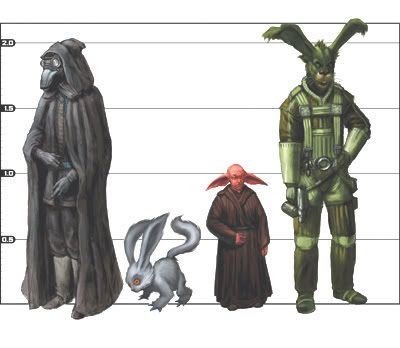 And... good luck, because I phail @ modeling :uhm: [/INDENT]
---
#6
11 years ago
okay the cuteness is over for the bunny if its on 2 legs and wearing robes
---
#7
11 years ago
A Kushiban model would be so cool! The drawing on two legs is not the best, but if some skilled modeller would go ahead and combine it with some "better" drawings, it would be one of my fav's, as I'm roleplaying a Kushiban, but unfortunately have to use to MogMod model.
It would become an original model, and is originality not what we all want? Or am the only one getting tired of watching humans all the time?
---
#8
11 years ago
download the predator model xD no human or be twilek , roidan or a Trandoshian no humans either so you wish you could change the people in reall life 2?
---
#9
11 years ago
If a man wanted a TV, you wouldn't tell him to buy a cheeseburger, would ya'?
Your post has no constructive content, other than referring to other models that have absolutely no similarities with Kushibans. I'm not interested in changing people, I'm interested in changing my model which is indeed possible.
What Xodyac and I want, is a Kushiban model, and I don't see any reason to argument against making it. So seriously, I think this could make a great model, and that it might prove to add some varity to the amount of models available.
---
29th March 2006
0 Uploads
#10
11 years ago
Y'see, the problem with non-humanoid models is that they tend to animate something awful. The JKA skeleton was built specifically for humanoids and anything that deviates from that path even by an inch will have issues. Hell, you could model something as trivial as long hair and it won't look right. As for anyone taking your request, your chances are slim. Most requests aren't taken because no one with the skills to do it is interested in doing it. This usually leads to people getting their panties in a bunch because no one here cares about what they want and the people who supposedly don't care keep telling them to learn for themselves. In the end, the thread dies, the request is forgotten and the requester feels offended. Now, I'd like to save as many people as I can from such a thing, so here's my suggestion: either forget it or learn to model. The last one is your best chance of seeing this model in the game and you'll appreciate it more if you know that you made it yourself. It'll take time and a lot of it, but it's well worth it in the end. Start simple, sabers are a good way to get started with JA modeling. From there, make a few vehicles if you want and then you can start looking at player modeling. You'll find all the tools you'll need in the Master Sticky, including most of the tutorials, but there are others on 3d art sites. If you do decide to learn, post your WIP thread and expect to have your work thoroughly criticized. It might get you down for a while, but it will help improve your skills. In the end, all I can say is good luck, whatever you choose to do.
---