#1
12 years ago
i know i spelled it wrong ok i need a lightsaber made for me becuse when i try to make one i always mess up ill post a template in a second but first i need someone thats willing to help me out i tried this once and it didnt work so here goes -Staff saber -unique design, might be a challege and a little bit of complex skinning any one want to help please i need the saber for a clan thing
---
#2
12 years ago
You might try posting a pic in the thread called 1Shot Doctors saber requests. I dont know if he is still doing this, but it would be worth a shot. He is an excellent modder, and it would be worth your while even if you have to wait a while.
---
#3
12 years ago
that would be nice i guess but he said hes gona quit for a while but im posting my pic soon ill edit it into this
weird i cant edit my post?? hmm heres the pic of the template

--You missed the 30 minute editing window. <3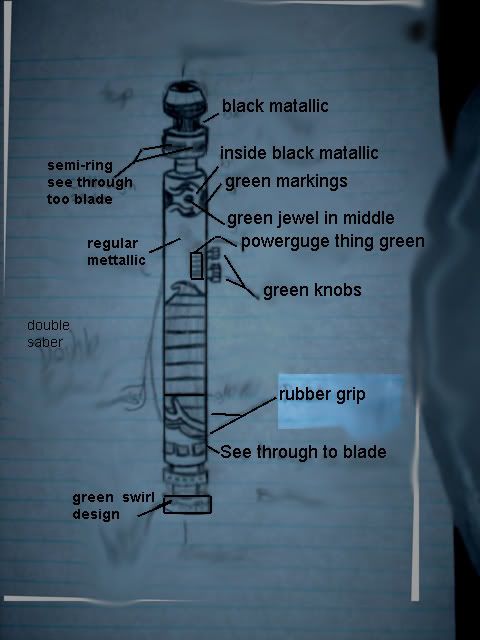 the bottom where it says green markings i want something like a mettalic shiny green, emerald green on all green stuff and trhe markings like chinese wind black mettalic as in black chrome there just a little extra info
---
#4
12 years ago
can anyone help me with this pleaese i stink at making sabers
---
#5
12 years ago
Looks interesting, and a fairly simple design really in terms of modelling. ssuming that is, most of those details would be textured on(if modelled, it could actually get fairly complex and poly expensive when you get around to the curves on either side of the rubber grip, the holes through to the blade, etc.) Whereyou have see through sections for the blade, I can only presume you did this so therewould be a glow from those areas likely for a green blade. it would be much easier to simply have glowing shaders if that is the case.
---
#6
12 years ago
nah mostly skining skining unless the emerald jewel got modeled but yahh a glowing effect would be nice i would do it but i stink at skiining and i cant figure out how to do the files that need scripting
---