#31
9 years ago
maybe ill just model all the heavy weapons to be held over the shoulder XD
thngs like these.. just modify some of em..maybe make some of em more custom u know?
actually, its not such a bad idea..after i finish this first weapons pack, ill give em a go
---
3rd February 2006
0 Uploads
#32
9 years ago
Did you see my post about the halberd tags? It was merged with an older post of mine.
Those are some snazy weapons there. I'm not real sure about replacing all the weapons with over the shoulder ones. Go ahead if you want to though.
---
#33
9 years ago
nawi just now read it.. ill replace the tags when i get home im at my moms right now.. i didnt mean all the weapons, just the ones that use the heavy stance.. im not sure how many that would be tho.. ill do more homework b4 i make such a claim next time XD but yeah man ill move all the tags around when i get home..i didnt really comprehend the placement of the blade tags too well, but maybe its cuz im just extremely tired.. ill have another look at the explanation later and try to place them accordingly EDIT: so heres some screenshots.. one a .gif image of the new textures i did for it, and the other an ingame to show the new tag position.. and im pretty sure i got the blade positions correct as well.. but u might wanna check it to be sure..
Spoiler:
Show
Spoiler:
Show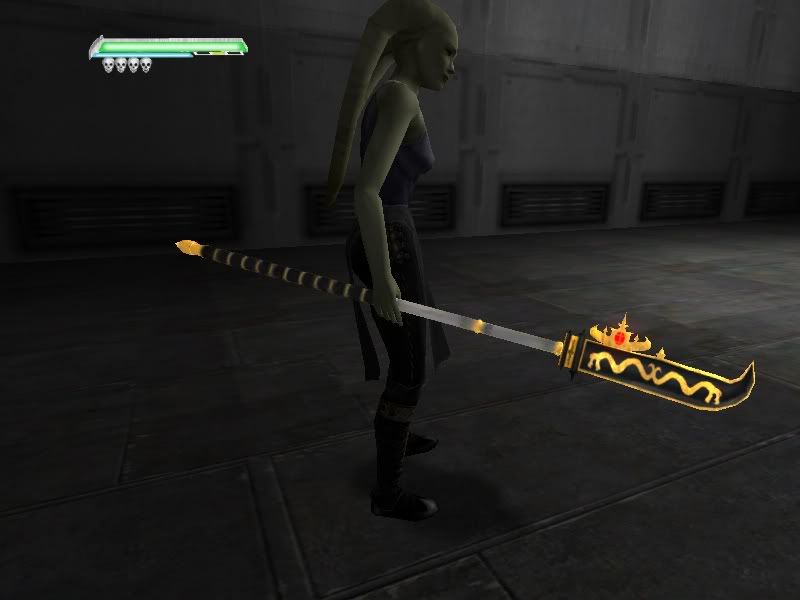 so here it is if thats correct http://www.sendspace.com/file/q5gfhs
---
3rd February 2006
0 Uploads
#34
9 years ago
Ok here is a screenshot from Dragon
The Black Arrow points to where I'd like the second blade tag moved to. Both tags should be back-to-back. This way I have one blade along the entire blade length and one blade along the entire shaft.
The red dot is where the hand tag should be. For this model it is basically on the grip section down about a fist and a half.
That's all I can think of.
---