#51
9 years ago
AshuraDX;5165659give him a chance probs you'll like his second version of your hilt better than mine
You're funny. Translation= I am super pissed off. Go ahead do it pro, show me what it really looks like.
---
#52
9 years ago
N88TR;5165873You're funny. Translation= I am super pissed off. Go ahead do it pro, show me what it really looks like.
god -_- I just wanted to give you an example there's no need to be pissed :Puzzled: i was just sayingthat he shouldn't make a final decision yet cause you said you we're going to rework it !
---
#53
9 years ago
OK people. I don't wanna start some kind of pissing contest. I am at your mercy as I don't yet have the skills to model it myself. I just want you to know that whoever does it, it will be greatly appreciated.
---
#54
9 years ago
If you want me to redo it say so. If not I'll post up a link for download a .mb or .obj file, your choice.
---
#55
9 years ago
It's a beautiful model. Please post it for a .obj file. I will take it from there. And again, many thanks for doing what I cannot.
---
#56
9 years ago
Yes sir. I apologize for other members butting in on this thread and causing distrubances, that I cannot control.
IF YOU R READING THIS AND WANT A MODEL:
[COLOR=DarkOrange]Post name of thing you want modeled[/COLOR]
[COLOR=DarkOrange]Image reference, larger size the better, perferably left or right side horizontal of the image[/COLOR]
[COLOR=DarkOrange]polycount limit for the 3d model[/COLOR]
[COLOR=DarkOrange]what format you want it in: .mb for Maya or .obj for Object which can be opened in either Maya or 3dsMax[/COLOR]
[COLOR=DarkOrange]Do not ask for help texturing, that is something I am working on for personal improvement at the moment[/COLOR]
[Edit]A little model I made up from a reference image. No plans to get in-game but we'll see who's interested.
[Edit] ***Working on your upload. I will edit this post again with a download link when it's done.
Here's another Fallout3 model that was requested, the Overseer's Console from Fallout2 I believe. So it's a remake. It's not 100% loyal but I find I like to do a little creative license on my models.
Here's the Overseer's Console after 2 hours, minus lunch break lol
I see a lack of activity here for requests so I am working more on other sites like FOOK Unity, Fallout3Mod, Crymod, Bethsoft, etc.
Edit:
Cannot add more images so I have to double post!!! oh my
---
#58
9 years ago
Okay. I've asked about this several times on various other topics, but I haven't found anyone capable of making this model. I know you said you weren't much of a skin maker, but could you try this?
I'm a megaman fan, and I wanted someone to make a skin of Elecman.EXE.
Here's an image.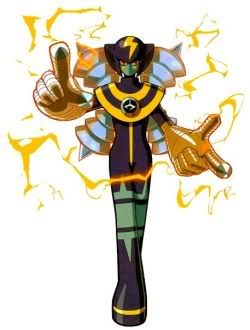 And another.
There's also one thing I also want, but if it's too impractical, just forget about it. I really know nothing about modeling.
I'd like it if you could make a second form of the same model where the hand the saber is held in is the hilt of a sword, and make a saber with an invisible hilt, so when used together, it looks like his arm transformed into a sword like it does in the anime.
But if it's impractical, again, forget I said anything. Thanks for your time!
---
#59
9 years ago
I'm not going to respond to requests anymore. If you people can't bother to READ and understand that I DON'T TEXTURE yet or model characters so be it. I'm sorry things had to turn out like this.
I want to thank the people that made requests and I was able to satisfy them but in the end it's just not fun here.
I get a lot of requests on other forums where people actually read and my time is better spent there. I over-extended myself here and this is price I have to pay.
---
#60
9 years ago
Since you have no further intention of taking requests here, I'm closing and unsticking this thread. I'm sorry it had to end this way. Feel free to PM me or any of the JK forum Moderators if you change your mind.
You still have your showcase thread up in the Graphics Department forum. I encourage everyone who are interested to visit it.
http://forums.filefront.com/pixel-rave/407806-n88tr-aka-cahemdues-3d-arts-thread.html
:lock:
---