#1
13 years ago
hey everyone. i haven't been here in AGES due to uni. For those who dont know im studying multimedia and learning how to model, texture, skin/rig and animate plus other stuff. heres a character i made. i had a few weeks to model, texture and rig.
Spoiler:
Show
Its 2224 polys and has 1 512x512 texture map i made all the textures myself except the shoes. i photo sourced them. but everything else was done in photoshop.
Anyway. in a few weeks ill be on break and helping Eclypse with a few projects.
---
#2
13 years ago
Welcome back...soom, fellow Australian.
Your picture doesn't load for me. Try posting it again, without spoiler tags.
---
#3
13 years ago
Jalechah! Whats up man? Yeah, it has been a while hasn't it. I'm glad your going to school for that, I am also majoring in that once I graduate. I can't see the pic either though, so try posting it again and I'll see what it looks like.
Hopefully you've made improvements, you one of those who decided to learn, and didn't do a half bad job. I am hoping to see more from you in the near future.
---
#4
13 years ago
hehe thanx, strange how the pic didnt show.. oh well.. here it is
Spoiler:
Show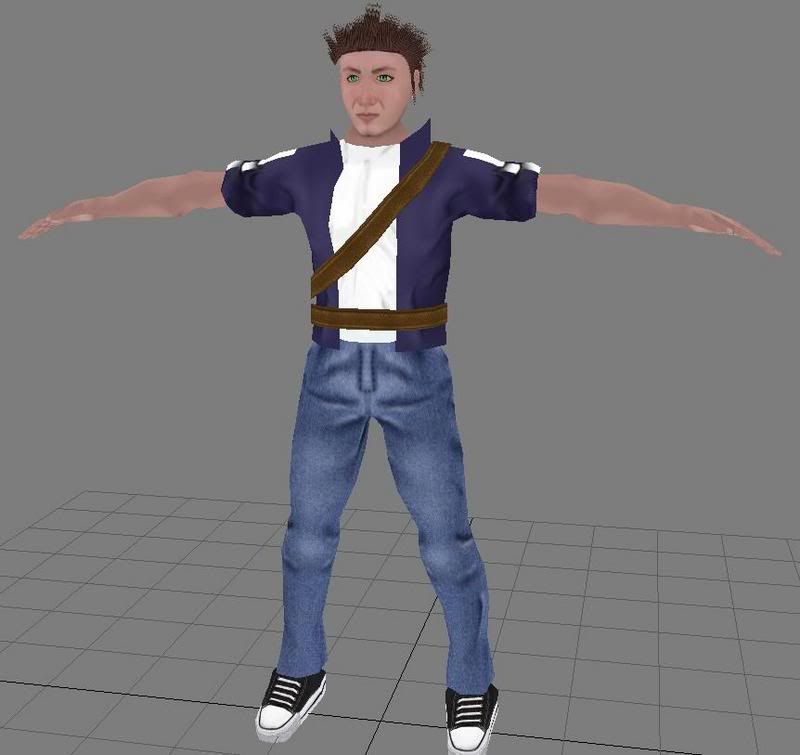 ---
#5
13 years ago
The fingers are far too long, and the face looks funny too... But I have to say that it looks better than any player model I have ever attempted to make.
Welcome back, by the way!
I think I'll end this message here, since every single letter I hit on my keyboard moves the keyboard a little bit to the left, so it feels like I am using a typewriter, moving the keyboard back over every now and then... >.
---
Disclaimer: Personal opinions still not endorsed by Ryojin.
18th April 2007
0 Uploads
#6
13 years ago
looks good, the only think that I think looks a little weird is the fingers and the hair... the textures on the pants are realy good.
---
28th August 2006
0 Uploads
#7
13 years ago
oh yeah, the head is really strange. the hair to, too many spikeys in the texture, not enough volume. I dont think the fingers are way too long though. And the shading where the straps are on the shirt, there should be many more wrinkles and shadows where it tapers the shirt off. The collar is also a problem, you need to make an inside for it, the backfaces are showing. A wireframe shot would also be nice. Other than that its an ok attempt.
EDIT: op, now that I look at it, the jeans need work too. The wrinkles are obviously mirrored. If you did that via UV sharing, then I would suggest remapping the jeans so you can make the details different on both sides. The fly cover needs to be much sharper where the raised part is. Also, the waist to the jeans would be a nice addition.
---
#8
13 years ago
did you break his arms?O_O welcome back :)
---
28th August 2006
0 Uploads
#9
13 years ago
XD XD Thank you for pointing that out, I completely overlooked that!
---
#10
13 years ago
lol there are alot of things wrong with the proportions but thats due to my teacher wanting me 2 exaggerate. and yeh textures could be better but oh well lol
---