18th August 2004
0 Uploads
#1
14 years ago
Hi Mates, Ive always wanted a skin of my own for RPGing a character of mine I decided I would post a request here. I am always using other peoples skins for my Chars I finally decided I would ask here(Since Asking at Other Places doesnt work and You have a special thing for this). Base Skin: http://www.pcgamemods.com/12323/ Things I would like Changed. Eyes: Need a Shader for this) Alternating between the Original Blue Eye Color and a nice Bright Green. Robe: Grey..just from Blue to Grey. Thats all really.....See ya L8r.
---
#2
14 years ago
why dont you just learn how. check the tutorials sticky.
---
#3
14 years ago
I'd just learn how to skin because the chances of a skinner doing it aren't high.
---
18th August 2004
0 Uploads
#4
14 years ago
have You ever tried to skin?
---
#5
14 years ago
Yes, i skin. alot. heres some of my work.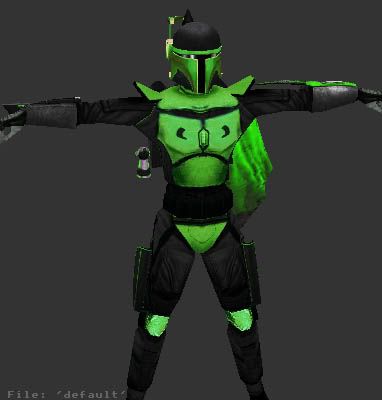 and yes, thats a female mandalorian model. it was a pretty simple skin, just need to grunge it up and stuff. that took me 2 hours, give or take.
---
15th March 2005
0 Uploads
#6
14 years ago
That took you two hours? Slowpoke ;) Give it some good scrapes and gashes and it'll look awesome.
---
#7
14 years ago
king of noobshave You ever tried to skin?
yes
yes, that is a Maul with a different skin color and tweaked Tattoos, and no I won't release it probably.
---
15th March 2005
0 Uploads
#8
14 years ago
That's not too bad. His chest tattoos look like a face to me for some reason... a very scary-looking face ;)
---
#9
14 years ago
Inyri ForgeThat's not too bad. His chest tattoos look like a face to me for some reason... a very scary-looking face ;)
I See what you are talkin about :nodding:
---