#321
12 years ago
gir speaking dutch omg run the world is gonna explode >_
---
#322
12 years ago
lol, love that they edited out "s" :P
---
#323
12 years ago
...I cant wait of this to finish it's going to be great.
---
5th September 2006
0 Uploads
#324
12 years ago
So I've started working on this again. I found out that the number of vertices doubled because after I applied smoothing groups, there are two of every object. Is that normal?
Anyway, does this look any better?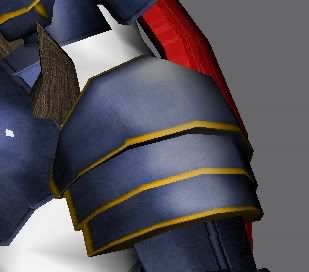 Gmax must not be very good with textures, since the bright spot on the top plate of the armor should be pure white.
---
#325
12 years ago
Its looking a bit better IMHO.
---
#326
12 years ago
Id say a definite improvement.
---
13th September 2007
0 Uploads
#328
12 years ago
on topic:looks good keep up the good work off topic:i wish i knew where to get a sonic mod for jk
---
#329
12 years ago
sonic is bing modled, look through all the pages ull find the thread, i saw it when it started
---
14th February 2007
0 Uploads
#330
12 years ago
Looking alot better, i cant wait for more progress to be shown. Keep up the good work.
---