15th March 2005
0 Uploads
#1
13 years ago
Okay, maybe you won't be famous... but who knows? It might be fun. Here's the deal: I need lots of shields for my weapons pack, so I'm giving the community the opportunity to skin their own additions. Don't get me wrong, I can do these all myself if I need to, so it's not a request, it's an opportunity :). There are three shields (so far, though I don't intend to make any more): a round shield, a kite shield, and a tower shield. I want several variations of each of these for the finished pack. I'll probably do 3 or 4 each myself, but if you guys want to take a whack at them as well this is the time! Some guidelines: -No paintbucket. I will not be accepting any skins that are primarily flat colors. -No photosourcing. When I say this, I mean no complete photosourcing. For one of the skins I borrowed a decal from a real picture, but for the most part the rest I did by hand. -Must be realistic looking. -Don't be sad if I don't use your skin. Otherwise I'll be sad :cry: That's about it for guidelines. In case you're more of a player model skinner, I'm also accepting medieval-ish player skins, as well. However those are just fluff. Remember, the mod will go on with or without you, so if you want your moment in my particular spotlight, act now ;) NOTE: I've included the UVs you'll need. Any parts that are currently skinned you should probably remained skinned that way. If you want to make a metal shield or something like that get in touch with me and I'll provide full UVs. I also can't distribute the models, but the UVs should be rather straight forward.
---
30th April 2005
0 Uploads
#2
13 years ago
I tried skinning the kite shield, and it ended up looking like crap, so I gave up. :D
---
14th April 2005
0 Uploads
#3
13 years ago
Here is the redone version of the one I posted earlier.
---
#5
13 years ago
looks good buddy, but id suggest to either model on that sphere in the center, or give it more contrasting shadow around the edges.
---
12th February 2005
0 Uploads
#6
13 years ago
Well, I decided to take a break from mapping to *attempt* to make a Viking Shield because I couldn't bare to see it being left out, although this really sucks because I never could do metal well but I suppose this might make other better skinners to try!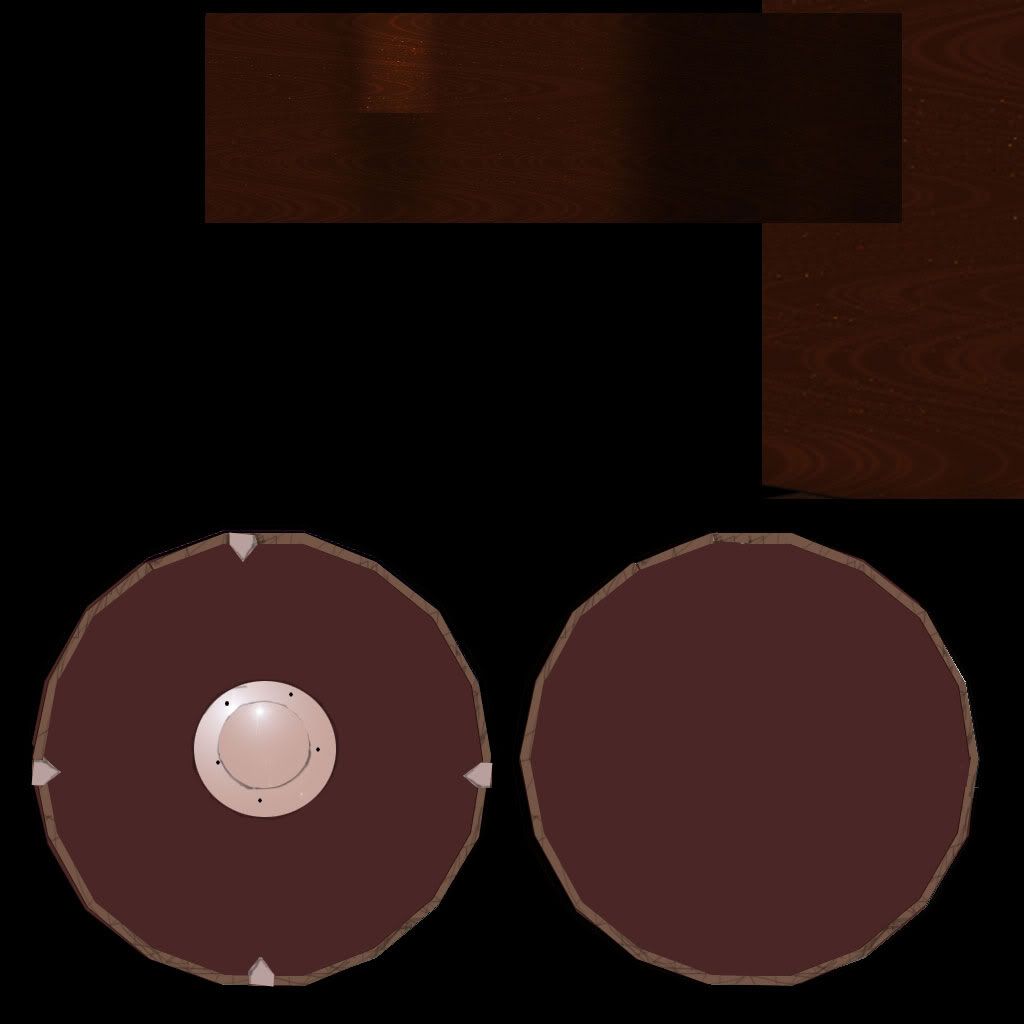 ---
iswer
Mapper, Modeller, Musician
50 XP
18th April 2004
0 Uploads
#7
13 years ago
heres a easy model, which isnt textured (just test-textured)
---
29th January 2004
0 Uploads
#8
13 years ago
Just felt like making an old, slightly damaged looking cross shield, don't know if you'll want it particularly.
---
15th March 2005
0 Uploads
#9
13 years ago
With a couple of tweaks, I think that'll be a keeper. I'll check the others sometime today, as well.
---
#10
13 years ago
Thought this would be a relaxing break,and it was. This is my Elvish inspired design. A little bit of photo sourcing but mostly hand made,so to speak. The inlay i designed myself using an LOTR John How design. I then carfuly placed each peice around the rim to creat a gold leaf like effect. I used an ancient hand pounded brass crest and desaturated it to look like silver. then put 2 more pieces of inlay in the center garnishin the Horse Lords helmet. Again i did this for fun. I wanted to do an HR Geiger inspired motif but i thought maybe that would be a little to organic. Use it or abuse it,but im curious to see it on the model.
Click image to view full screen.
---