#21
14 years ago
How long did that take you?
And it's generally nice to have the extras, so he probably wants you to include it.
Tell me, what does your pk3 consist of?
---
#22
14 years ago
About 10 minutes for a basic stormtrooper ready to be selected as a species.
It consists of:
Strings Strings/english Strings/english/menus.str models models/players models/players/jedi_st
And the included files.
It works fine, I have already tested it on other computers.
I am adding the second torso style now.
Infact, since JK3files apperently doesn't carry that kind of sp spiecies, why don't I submit it? Sound like a good idea?
(I will add it in an attatchment in the post when it is ready)
---
#23
14 years ago
Okay, here is the .PK3.
If you do not know, extract the .pk3 from the .zip into your base folder (Default is: C:/Program Files/Jedi Knight Jedi Academy/Gamedata/Base)
And here is a screenshot (Secondary Torso)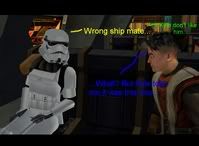 And attached is the file :D.
Note: You have to RIGHT click to get to it for some odd reason.
I will repeat, you have to RIGHT CLICK to get to
the stormtrooper species on the player select window, :rolleyes:.
---
#24
14 years ago
why not upload to www.filefront.com , you get unlimited space
---
#25
14 years ago
Because the main FileFront homepage is broken for me :(.
---
#26
14 years ago
Oh my GOD, THANK YOU!!! I was going to ask for the Officer Torso too, but you already put it in for me... Thank you so much for doing this for me, Person99. I really appreciate it.
---
12th March 2003
0 Uploads
#27
14 years ago