#1
11 years ago
Look! Another help me thread! I'm completely and utterly useless! YAY!!! Alright. I need some help. I was wanting to make the moldy crow a flyable ship in JA. I have been given permission by the head of The Dark Forces Mod, to use the 2nd demo version of The Moldy Crow for JA and EAW. First, I want to make the JA version. This ship means alot to me, and I won't go into detail about it. I can supply the needed files, yes. I just don't know if an MD3 is the entire model, but for people with fast internet, 200 mb is nothing, so if the MD3 isn't what somebody needs, could that person possibly download said mod file, and get everything for the moldy crow needed? The things I wish to have done, to make it a great ship that people will WANT to fly... get the main model, and use my edited skin. Rig it up to fire at LEAST the main blaster cannon on the bottom, and if someone feels like it, make the blasters on the wings point forwards, and have them shoot too. Nothing too powerful, because that would be unbalanced, yes? No rockets on it, at least. So maybe it's acceptable. In level two, you see the Moldy Crow with landing gears out. If this could be truly implemented, it'd improve the quality of the model tenfold, instead of just having it float there. Hopefully, the engine effects in level one can be used as well. I REALLY hope so. If not, that'd be just nerve racking, but still. Also, that smoke that's coming out of the vents in level two..? That's gotta' go. It's not there in one or three, so... That would make NO sense. I've waited 12 years to fly this thing, and every oppritunity has been shot down... XWA, shot down. EAW, I can only order around a horrible model of it around... Never ever been able to fly it. This would not make only -me- happy, but SO many others. Just think about it. How many people want to fly this ship? Tons! The best model is in the 3 level second demo of Dark Forces, and it is 100 percent correct in scale, and looks. PERFECT. Wookieepedia is -wrong- about how long it is. *I* should know. If someone could do this, I'd be infinately happy. Like... SUPER happy. Also, I downloaded the Dark Forces II models of Kyle Katarn, and I was wondering if I could get the Bryar Pistol implemented for that model specifically.
That'd actually be really cool... Have the models of Jan and Kyle from Dark Forces II, with kyle's rahn saber, and the moldy crow all in one download. Something along the lines of "Dark Forces II Mega pack" or something. Just gotta' ask permission to use the re-done DF II models for JA from that guy who made em. Cinematic version, of course. I'll contribute all I can. I think my skin for The Moldy Crow is certainly a good thing. Maybe not enough, but it'd help in the long run. Anyone wanna help me fulfill my dream of flying this ship? Also, regarding performance... Fast. Mid armor and shields. It can take a pretty good beating, but it's speed is one of it's main things. So... Anybody wanna help me out?
---
#2
11 years ago
I can't make it a ship, but if you want I could make a prefab, then maybe someone could convert it into .glm then make it a ship.
---
#3
11 years ago
Nah, I've gotta' have it as a ship... I don't want it just made for me, of course. But... This is my absolute most favorite thing in the Star Wars universe. Just pressing the use button and hearing the engiens whirr up would mean so much to me. Though, regarding the landing gears... I think those should be shortened. I just cant imagine my bird sitting THAT high... but, hey. I won't complain. Just getting to fly it around would make me infinately happy. Also, how do I replace Kyle with the DF II Kyle? It's SO much better! Is there a way to make cockpits see through?
---
#4
11 years ago
pfffffffffffffffffffffffffffff
well I've never tried somethin glike this but I can mae 1 out off all Moldy crow parts and put them in a glm but if we need animations (gla files) for a spaceship then I cant do it :(
aslong as there's no need for an gla file I'll try to do it
EDIT : OMFG ! :eek: I CAN MAKE F*CKING SPACESHIPS !!!!!!!!!!!!!!!!!!!!!!!!!!!!!!!!!!!!!! :D
---
24th March 2008
0 Uploads
#5
11 years ago
A pic, if it helps : o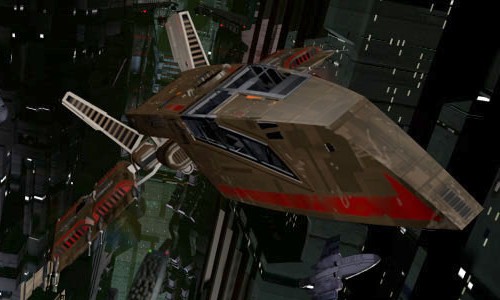 ---
#6
11 years ago
@Jaxun could you send the modly crow model and textures to me ? I'll make it a space ship
---
#7
11 years ago
I don't know any file upload sites besides photobucket..! lol!
Also, those pics of the crow are out-dated. Back from the Dark Forces era, before the best design. I'll gladly take screenshots of the one in the DF mod, AND supply a link. Don't worry. Thank you, Ashura for taking this up. I'll have it done TODAY. I'll also put up my edited skin on Pbucket. If I do infact still have it.
---
24th March 2008
0 Uploads
#8
11 years ago
General Jaxun;4953242I don't know any file upload sites besides photobucket..! lol!
You're on one! lol!
---
#9
11 years ago
Thanks. THAT was helpful...
A skin for a ship nobody haz! Anyways, here's a few pics of The Moldy Crow from the Dark Forces Mod. But first, a link tot he site to download the mod itself. Remember. The 200 MB version, NOT the 400 MB version. The 400 MB version holds one of the worst Moldy Crow models out there. it's just plain raunchy. The 200 MB version is the best for what I wish to accomplish. It's absolutely perfect. Dark Forces: A MOD For Jedi Academy Now for the pics. The first one. An overall good view of this baby. The steam coming out of the vents should be ignored. close to the end of the ship, you can see what I edited myself. It's on the left side of the cockpit. The left of the ship, that is. The cockpit extension on the left side of the top of the ship was not included. I opened up paint, and fixed it myself. It's actually a really good little edit in paint, that nobody would notice unless I told them about it. That was the only problem with the entire skin, so I fixed it. I don't understand that steam, though. The model of this ship should be included somewhere in the pk3 that the mod is inside of. http://forums.filefront.com/attachment.php?attachmentid=70984&stc=1&d=1248118580 Next we have a shot I took earlier. You can see the awesome details of the Bryar Pistol in this thing, and WHY I want to include it as well, with the DF:II versions of the main characters, and kyle's rahn saber, and yun's. But the landing gears are to be noticed here instead. They're pretty large, really. I was actually wondering if the ones at the rear end can stay in that spot, and still retract without messing up anything. I mean I'm sure something can be done about that. But I definately wanna' keep the Landing Gears on them, because too few ships actually have them. I know, the ship looks pretty large in that shot, but it's not TOO big. Comparabel to The Raven's Claw. It's roughly 19-20.1-9 meters long. So, it's scale should be kept. Though, I'm not entirely sure that the model seen there is the same scale wise as the one seen in the first level of the mod. The one in the first level is absolutely perfect, if it's a little smaller. The way the engines look are also exactly how I'd want em to look during flight. http://forums.filefront.com/attachment.php?attachmentid=70986&stc=1&d=1248118580 Here we've got a very good shot of The Moldy Crow's side view. You can see the blasters on the wings that are tilted. So, the blasters shoule be re-affixed to a more forward pointing position, if they are used in the end. In almost every log of the ship, those ARE blasters. But NO secondaries are located on said ship. Frankly, there are skin details that can be improved, specifically on the chromed out parts, but that's ignorable. http://forums.filefront.com/attachment.php?attachmentid=70987&stc=1&d=1248118580 Right here we have a view from head on. Clearly, the pilot has a good view. Unfortunately, the pilot sits on the right, but we can't see that from here, so details like that aren't exatly important. I fixed this little issue in my ship, The Saber. it's a 2D image at the moment, and irrelivant to this topic. http://forums.filefront.com/attachment.php?attachmentid=70985&stc=1&d=1248118580 Now right here, is the moment of truth. The REAL size of this ship. This is a shot from Dark Forces II: Jedi Knight, with a live action cutscene. this is a capture from the youtube video of it. This is the true scale of The Moldy Crow, and you can clearly see how it's no larger than a Y-wing. Something around 19-20 meters long, as you can clearly see. The size of the ship is consistent with the in game model in Dark Forces II: Jedi Knight. Also, the Dark Forces Mod. Seeing as there are many sources that lead up to this shot right here, scale wise, this is how big it really is, and the sizes stated in Dark Forces, Dark Forces II: Jedi Knight, and the Dark Forces Mod, are 100% correct. And wookieepedia thinks it's right about everything, geez. Also, you'll notice that the curve seen here is a lot softer than almost every other depicition of The Moldy Crow, giving even more belief to The Dark Forces Mod's moldy crow model in the second demo being correctly scaled, proportioned, and depicted. http://forums.filefront.com/attachment.php?attachmentid=70988&stc=1&d=1248118580 There you have it. All you have to do now is download the mod yourself, and type in at the console /Devmap talay or /Devmap Sewers, and you'll be observing The Moldy Crow all day, right at the beginning of the level. do a /Devmap secbase too, so you can see how The Moldy Crow flies in, and how it's engines look when activated. And there you have it. That is all there really is to know, and it's almost all the help I can give. I'll post the edited skin in my next post, okay?
I hope I've been helpful in giving you resources to work with!
---
#10
11 years ago
sooooooooooooooooooooo I shall make that model to a spaceship ? too easy for me ;)
---