#1
11 years ago
Like, super sexy. Sexier than... Sexy.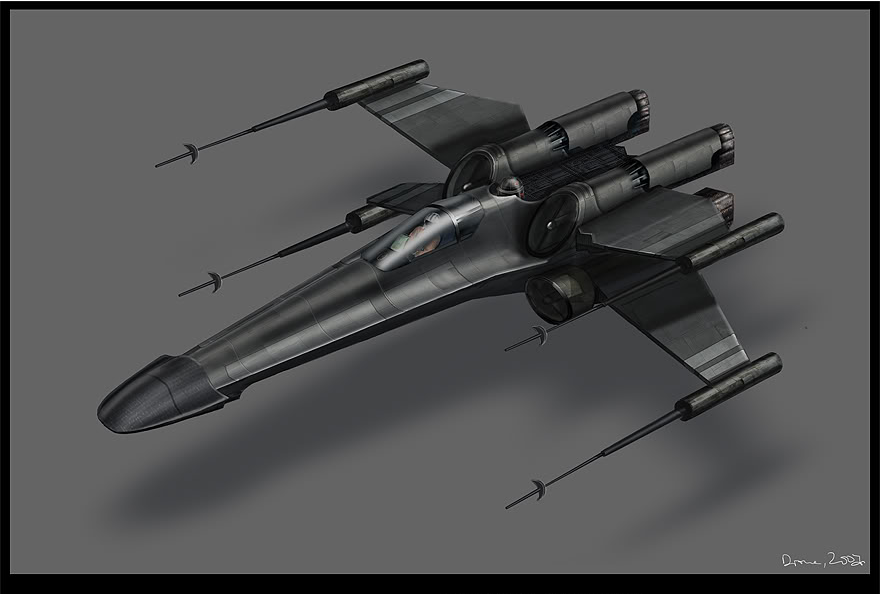 I CREAMED. The point of the thread? Somebody should make this- it's just too awesome not to be made by somebody. Apparantly, it's a Stealth XJ. Some X-wing variant. It is totally cool, and totally badass.
This would also be a super cool DL-44 replacement.
---
15th March 2005
0 Uploads
#2
11 years ago
Paint x-wing black. Solution. It's ugly, btw.
---
#3
11 years ago
Eeeh... To each their own.
Although... Painting the X-wing black WOULD work, to a degree. You wouldn't get those sleek lines the stealth-XJ has. But.. It would work.
---
4th September 2004
0 Uploads
#4
11 years ago
Um stealth technology works mostly because the craft has no curves, this thing is full of em.
---
24th April 2007
0 Uploads
#5
11 years ago
Looks more like a dick than a real X-Wing does XD.
No seriously. Whoever designed that definitely had penis on his mind. Cool guns, would make a neat replacement.
Also, more curves make it more aerodynamic. You don't need that many for stealth. If you want something that can't be caught by radar, you'll be wanting something like the Owlship from Watchmen.
---
#6
11 years ago
Hm, true... But this is the Star Wars universe. What the F*ck really makes sense here? I also thought the owl-ship was a silly design, but that's just me, I guess. This thing actually looks like something that may work better in atmosphere than a standard T-65. Well, here's a top down of my own design. Maybe it'll have a better response..?
Jaxun Industries C-338 "Corsair" fighter. One bad MOFO.
I'm not too sure if 100 MGLTs is too fast for it, but who cares, right?
Yes. There are some clear inspirations. The Cloakshape being the most visible, and the TIE Bomber being one as well. However, the original design was just a wide-winged fighter with a single pod in the middle. Then I added a rear stabilizer wing, and decided that it should be a bomber, and added a secondary engine/ordnance pod.
You can imagine that when this thing explodes... It's pretty nasty.
---
#7
11 years ago
that looks cool, i'll add that to my server when its ready :)
---
#8
11 years ago
D:
I can't make it. That's just a to-down I made on MS paint... SADFAIC...
Uh... Anyone wanna' make it? We never have actual original concepts put into JK3 files. I think it'd get a few downloads, simply because nobody has ever seen it before.
I've got other vehicles, if anybody wants to see them. It's what I do in my spare time. I've got three. The C-338 Corsair Bomber, the Axon-40 Fighter, the Axon-50 interceptor, and the Incom prototype that started the Axon series, the Axon-35 Scout Fighter prototype.
Anyone wanna' see those? I'd be glad to show off my work! Even more glad, if somebody were to want-to make them.
---
4th September 2004
0 Uploads
#9
11 years ago
Flying vehicles fail miserably in JA, go play SWBF2 if you want some good flying vehicles.
---
15th March 2005
0 Uploads
#10
11 years ago
Why don't you try learning to model? Vehicles are not really that hard, especially if they don't need to be animated. It's not like your concept is very complex. Might be a good place to start.
---