5th October 2007
0 Uploads
#1
12 years ago
Since my last two projects are pretty much official down the drain right now...I'm not sure if I should really continue now...since my computer hates me, my range of JK modding is limited to either skinning, or coding...and I have official run out of ideas...so what I'm asking is, inspire me...ask for requests... I really want to continue modding here, but my mind is blank...
I just have a few guidelines to these requests, i suppose.. 1) Please..nothing "The Force Unleashed" related.. 2) If you can, make it something obsecure if at all possible (eg. some random character someone drew up on DeviantArt) 3) Also if at all possible, try to a model that could work for your "request" on JK3files, or in the base models...
I really want to improve on my skinning, and learn anything else that could help me out, and hopefully this will prove useful towards that..
---
#2
12 years ago
make the linkin park band or maybe you can help make the dark knight characters for us
---
22nd December 2006
0 Uploads
#3
12 years ago
Linkin park...ugh.
Anyway, i don't think skinning band members works in JA at all.
---
28th March 2006
0 Uploads
#4
12 years ago
I'm not gonna request anything. Instead, I'm gonna recommend something. Think of a character concept. Doesn't matter whether it's serious or ridiculous, anything will do. Something like "a jedi master cast out of the order traveling the galaxy, trying to find an answer to an ages-old question (where do the stars go when the sun comes up?) and righting wrongs where he sees them". Think of what a character with such a story might look like. Grab a pencil and some paper and sketch yourself some concept art. Keep doing that until you're happy with what you have. Now model it. Or find a model that fits your concept and reskin it.
Whether or not you decide to heed my advice, good luck.
---
#6
12 years ago
i´ve got a request :) Raiden from MGS4 !
---
#7
12 years ago
you might want to post a picture
---
#8
12 years ago
Well, I've always liked the KotOR Jedi "Light Tunics" from KotOR 1. Just a suggestion, not sure if that's something you'd want to do.
Spoiler:
Show
Not the best picture for a reference, although I could get a better one, but I don't want to waste your time/thread space if you're not interested.
---
5th October 2007
0 Uploads
#9
12 years ago
as byrdface said, a picture would be nice for the MGS4 Raiden...and to what Jose said..i do have some ideas for other things such as maps and models...but my computer is limiting me on almost every front...GTK Radient will not work for me at all because of the Vista runtime error, and the only modelling system that works for me is XSI mod tool, which crashes all the time for me as well....
and about the only reasonable idea i had for something of my own...is an idea i had for a comic/rpg maker game i had...
Spoiler:
Show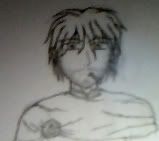 (sorry about the quality)...and he looks like a mix between Solid Snake, and your Galar model...only he's suppose to be in a full robe...
---
#10
12 years ago
Ryu from streetfighter. I just want it done. I JUST WANT IT DONE !!!!!! PLEASE !!!!!!!!!. I would recommend the goku model. the problem is the hair though. if you can do this thank you. if not... X-23 from marvel comics... or cyclops.or a modern deadpool./space saga deadpool
---