#1
12 years ago
I'm currently working on a new EE-3 along with 2 Boba skins from ESB and RotJ.
This is the original: Boba Fett's EE-3 Blaster Carbine, Jedi Knight 3 Downloads, Jedi Knight 3 Guns
Top One :
is the reworked Version. And the Boba skins ModView shots: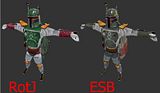 ---
#2
12 years ago
[COLOR=Navy]Nice:D[/COLOR]
---
#3
12 years ago
The ESB one actually looks more like the Boba Fett from the movies.
I wish someone would make a TC with boba fett missions like the game bounty hunter. So you can actually play as Boba Fett with only guns no sabers and maybe with new gadgets but anyway i really like your idea and those new skins are sweet.
---
#4
12 years ago
Good Anakin, goood.
I know a big Boba Fett fan, he'll be happy to hear this.
---
#5
12 years ago
Very nice, keep up the good work
---
24th April 2007
0 Uploads
#6
12 years ago
everyone at the Boba Fett Fan Club would love you lol!
---
#7
12 years ago
Oh, sweet! Are you photosourcing the textures, or did you make those from scratch? Absolutely amazing!
---
#8
12 years ago
I'm using a photo as base and add detail over it. Should be done in a couple of days I just don't know wether I'll release it for base again.
---