#1
8 years ago
Heya, folks! I released my Zero Suit Samus v2 today, and immediately, people in the comments started asking about revamping the outdated Varia Suit Samus from 2004.
Here's the model in question:
My question is, what's right with this model? What's wrong with it? What would you like changed? Most importantly of all, is the basic model itself fine, or does it need a new model altogether?
---
3rd February 2006
0 Uploads
#2
8 years ago
Skin wise I think it is great. Model wise it is good, but not perfect. I'm greatful to have it versus nothing at all. The main thing is the proportions are off. 1. Torso is too small and the waist is extremely thin. 2. Arms are too large. The shoulders could be reworked a little. 3. The legs look fine but don't match up with the smaller torso.
---
#3
8 years ago
Hmm. Sounds like we'll need a completely new model on our hands.
I sent off an email to HellKobra (author of Harley Quinn) and Last_Wish (author of IG-88/Ahsoka Tanko), asking them if they'd like to collaborate on a new Samus model. Here's hoping they check their emails.
---
14th February 2010
0 Uploads
#4
8 years ago
Yo, it's me.
1:I noticed that the head is, well, disproportionate. (It's too big) I understand she's supposed to be in a helmet but it never looks that big in the prime games!
2:The texturing on the helmet are a little off too. Particularly the visor. If you can, make alternate skins (.skin) with Prime 1-2 style and Prime 3 style visors. Find some pictures.
3:Chest. It just doesn't look right. It's supposed to have that kinda angular look. And the "markings" should be arranged differently. Find some pics.
4:Back. The thrusters are supposed to be more inward, point more to the sides, and overall stick out more. Find pics.
5:Shoulders. They just need to be rotated to be fully upright when standing. (See pics above, they're sagging)
Good place for pics: Varia Suit - Wikitroid, the Metroid wiki - Metroid: Other M, Metroid Prime 3, Metroid Prime 2, Super Metroid, and more
---
19th September 2006
0 Uploads
#5
8 years ago
18th September 2005
0 Uploads
#6
8 years ago
The head isn't wide enough ("bulge" shader?), the shoulders aren't hefty enough (would probably deform like crazy if they were), lower torso isn't wide enough, fat arms. The rest is mostly texture work. Maybe clever shader usage could mask some of these things? There was an Iron Man pack that effectively fattened bits to make the MK1 armour. Long, not-really-going-anywhere description ahoy!
Spoiler:
Show
Compare the picture of the standard Iron Man suit
here
with the beefed-up MK1
here
- to make the difference more noticable, I used my godawful GIMP "skillz"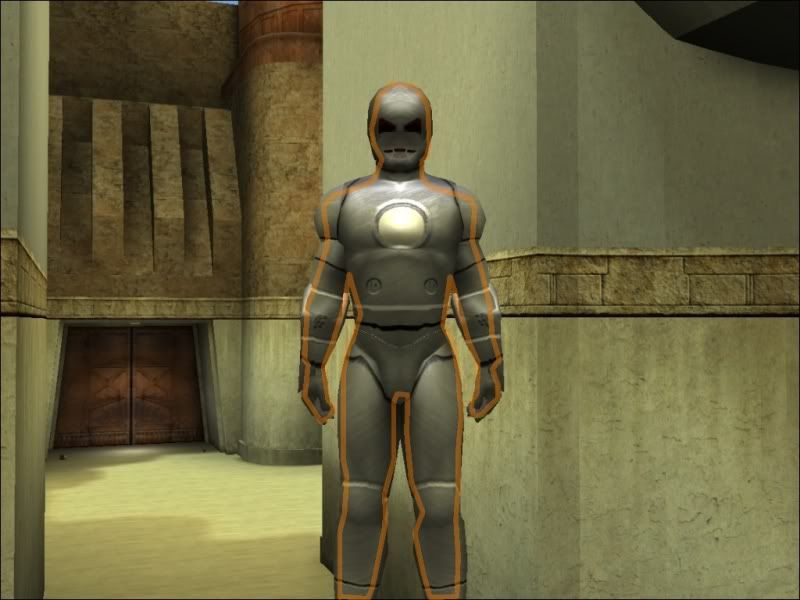 Original File
Maybe you could try to find a way to apply a bulge in certain directions in certain places. There's probably a way to make it bulge 'in' to make some bits (e.g. arms) skinnier. But, as it usually is, the long way round (making a new model) is probably/certainly going to look better. Good luck!
---
14th February 2010
0 Uploads
#7
8 years ago
Jonny2199;5325319The head isn't wide enough
@.@ Are you nuts!? It's already the size of Pennsylvania! Tone it down, not up, please.
Edit:Never mind, I see you meant proportion not overall size. And I agree, but not too much, just a little bit wider.
---
18th September 2005
0 Uploads
#8
8 years ago
15th March 2005
0 Uploads
#9
8 years ago
Comparing proportions on heads from completely different angles isn't really going to give you an accurate result. Samus is looking up in your top picture, making the chin higher and the distance between the bottom of the chin and the top of the head (as visible) greater than it really is.
The proportions actually aren't all that off if you're referencing earlier renditions of Samus. For instance:
All things considered, the Samus Aran model is a very well-done piece of work that just takes a little bit of artistic license to make it more realistic than some of the more recent cartoonish versions from the last few games.
---
19th September 2006
0 Uploads
#10
8 years ago
Alright, so I did a test run of the model in game to catch up. First off:
- Rancore's 1-5 points do have some validity
Second:
This is quite the anomalous model actually. I'm still undecided on that pelvis issue, because sometimes it looks right, other times it doesn't. There may be no good solution to this issue, as I can foresee either clipping or horrid deforming no matter what one tries, as is the case with the current model.
On the other issues, the helmet definitely needs to be rooted closer to the rest of the armor, methinks. I also stand firm on the tree trunks for arms, as even in the older versions of Samus, she ain't that beefy.
---