#1
14 years ago
I've made a thompson gun from scratch, first model ever. I have no knowledge towards rigging or other aspets to getting it in game. It has no materials/textures applied to it, just a plain old *.ms3d file. Anyone want to help with this? PM me and i'll send you the file (It's being used for a world war TC, so i can't release.) NOTE: They're thumbnails. (Click to enlarge)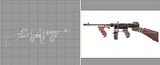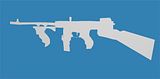 ---
#2
14 years ago
I think rigging is just a simple matter of tags like tag_hand or something but i really dont know for sure.make sure you have the md3 exporter for milkshape,or does it come with it?i dont really know!
---
29th March 2006
0 Uploads
#3
14 years ago
You don't rig weapons. And there is such a thing as the Master Sticky, which has tutorials for getting weapons in-game.
---
16th October 2006
6 Uploads
#4
14 years ago
Just a little design tip: A soldier's Thomson M1 A1 would most likely use a straight magazine instead of a drum magazine, and have a noraml foregrip rather than the handle style.
---
#5
14 years ago
Yeah, I've known Thompsons to use straight magazines, but the model looks awesome, hope you can get it in game.
---
#6
14 years ago
dude tht gun is the most realistic computer version of a gun ive ever seen (and thts a lot) BIG RANCOR MOD RULES!!!!!!!!!
---
#7
14 years ago
For more infomation on this mod go here http://www.miaoweb.net/forums/?mforum=wwtc
Well for a first model its absouletly great.Cant wait for you to get it done and send it to me.Thats one model down,about seven more
---
#8
14 years ago
o.O! How can it be awesome?! it's the first i've made....looks pretty dodgy to me. @ani +one and only Check the reference pic i used, it's pretty exact to that.
---