5th September 2006
0 Uploads
#871
10 years ago
I put the lips in a more neutral position, and that whatever-it-is on the neck looks terrible. I'm proud of the hair.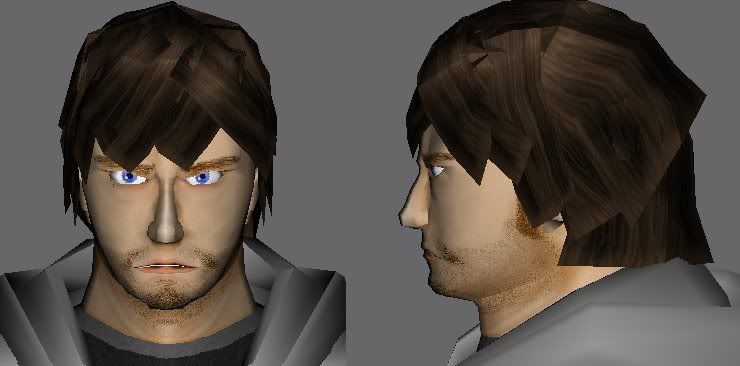 Can I get more in-depth crits on the eyes and lips?
---
#872
10 years ago
His neck makes him look like an obese person. Just so you know...
---
#873
10 years ago
Eh, the eyes look a bit...animated? It might be easiest to just rip some eyes off some JKA model, and change the color appropriately...
---
5th September 2006
0 Uploads
#874
10 years ago
The texture, you mean?
...
See what I did thar?
---
#875
10 years ago
Just commenting as an outsider I think you've done a fine job on the mesh and texture marshal. However I feel there are some parts that could do with some adjusting and i'll suggest the main ones. The lips could be enlarged vertically and could also do with some depth pushing out from the face as the side view makes it seem more like a line. The Torso should be made slightly longer to match the lengths of the legs and the hands could do with some resizing as they look quite large compared to the size of the arm. Apart from the other ideas already mentioned in the thread the mesh is fine with a good poly flow and no noticable wasting of vertices. Hope to see it finished =p As a final note I might be able to lend a hand with any non organic models (weapons,misc objects etc.) and texture them but with the amount of time I get I wouldn't want to let anyone down by not finishing a mesh or texture.
---
28th August 2006
0 Uploads
#876
10 years ago
I took a little time out of my day to do a draw-over to illustrate some things that need to go into the texture. The lips, however, you need to make fatter (vertically) on the model. The biggest improvement is desaturating the inside of the lips. They look cartoony at the moment, being a totally different shade than the rest of the skin. Its jarring to say the least. they should be much closer to the persons natural skin color than they are now.
---
#877
10 years ago
That looks pretty nice Isla. Good job.
Thoughts Marshal?
---
#878
10 years ago
Keep up the good work. Great job so far!
---
7th October 2008
0 Uploads
#879
10 years ago
this mod is looking great. I just registered, but have been watching the thread. I think the mod should be both SP and MP. It sounds :cool: both ways.
---
#880
10 years ago
Firstly, I agree I think it would help the mod to be done in MP (even for the single player aspect) and a multiplayer element (co-op?) would be awesome as well.
Secondly, your sig is crazy.
---