#1
10 years ago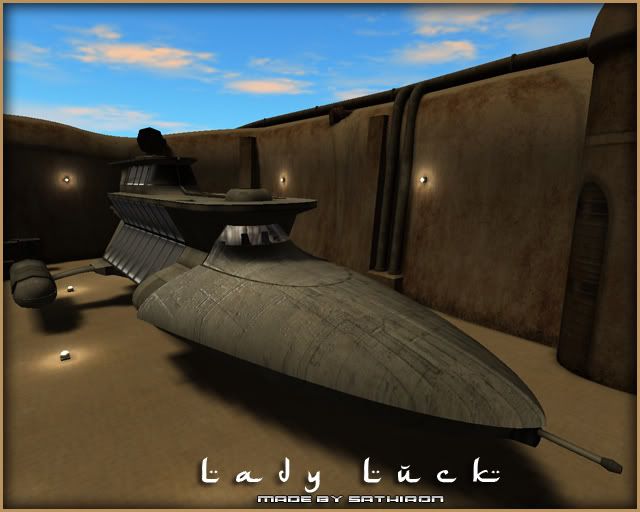 Youtube HD Link << YouTube - Sorosuub Luxury Yacht 3000 - Lady Luck >>>
Ok something I haven't really shown any of the works in progress of to anyone other than SJC and Several Sided Sid but here goes for you guys. So as I may get some last minute feedback from you guys and any suggestions on what can maybe be added to it. Already it has... - "state room" (master bedroom type thing) - Crew quarters - Toilet/shower room - Cockpit - Cargo bay - Communications/computer room - A working 100' holo screen (1080 HD Ready) - Swoop Garage.
I will state so as I don't get any flak on how accurate or not it is. Whilst I have pulled a lot of influence from the SW Galaxies version and some from Jedi Outcast this is My version of the Sorosuub Luxury Yacht 3000 its non Canon Fanon :cool:
---
#2
10 years ago
Yes, it definitely looks better without the fog. ;)
That nose texture....can you double it's resolution? It's too grainy.
Oh, and don't forget interactive elements! Any ship map can have some awesome add-ons, especially using scripts.
---
#3
9 years ago
Wow, very nice! Its just too bad my PC is too slow to see the full glory of it in HD.:(
Edit: Now I can see it HD! :D
---
25th August 2008
0 Uploads
#4
9 years ago
*Waves hand*
You want this to be open source.
Very nice work. Keep going!
---
#5
9 years ago
Looks excellent. Good work!
---
#6
9 years ago
Nice, Im just getting past that part in JK2 (for the billionth time XD)
---
8th January 2004
0 Uploads
#9
9 years ago
Oooo, the Lady Luck, my favorite ship! Well, one of em anyway.
---
4th September 2004
0 Uploads
#10
9 years ago
CrashmanX;4771655Nice, Im just getting past that part in JK2 (for the billionth time XD)
JO single player never gets old to me dude, i love playing it from beginning to end, but i cant do it on jedi master. =p
i watched the vid dude, it looks good, maybe if like your not too close to sacrificing performance maybe make another hangar area with another ship to be explored.
---