15th March 2005
0 Uploads
#1
8 years ago
Being as how I'm not familiar with the tutorial you used, and you didn't provide a reference to it, my first guess would be that you didn't reset your transforms (based solely on the screenshot). But being as how I don't know what you did it's really hard to say.
---
15th March 2005
0 Uploads
#3
8 years ago
Best thing to do would be to unlink all the meshes completely, reset xform on each of them, then relink and reweight. Usually what you're seeing means you didn't reset the transforms.
---
#4
8 years ago
mmmm.... :(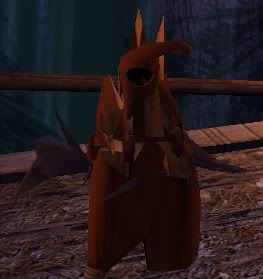 [SIZE="4"]I'M A FAILURE!!!!![/SIZE] I've really been at this for 6 hours gone over the both tuts 6 times, done what Inyri Forge said to do and what do I get.... Success?! No, about all 3 times I've went in game and checked what I've done, failure... And that was my worst! I don't want to give up but I'm just no good at it... Modelling isn't something I'm good at I'd rather be coding something... :( I now wonder anyone do me something? Can someone do the animations for me? I just sounded like freeloader... I don't mean too... Would someone take "some" time to do it for me? Please, and tell me what they did to make to work? I work better one on one on things with some taking though it step by step...
So, can some please do the fixed animations jawa? I would be very grateful file front members also seem to save the day when you need them, I know from experience :rofl: Yah, I always needed help but I'm starting to figger tings out by my self. :) So can anyone please do the jawa for me? There is no rush.
---