#1
12 years ago
So I need some serious help understand how to Get NPC clothing werable by the PC using Apperence 2da.
---
#2
12 years ago
Hmmm..im unsure on this one...have you tried changing the model and texture columns in the PC rows to match that of the npc you want...this is the only way I can think of and Im not sure it works...
---
#3
12 years ago
The appearance.2da isn't as complicated as you'd think. Well, it's not as complicated as I thought it would be, anyway. You're trying to give your PC an NPC's clothing, right? So, you just find the line of the NPC you're looking for, then copy their "modelb" and "textureb" entries. Then you go find the PC lines. There are dozens of these. You probably don't want to bother changing all of them--just the one that you're currently using (check the number of the head that you're using). And there are three entries for each PC head--small, medium, and large (scoundrel, scout, soldier). I'd change all three just to be sure.' And make sure you change both the model and texutre entries, or you'll wind up with a mess like this: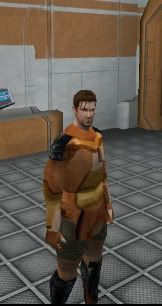 ---
#4
12 years ago
Thanks Carter hope that helps :)
---
#6
12 years ago
Wait for the Modelb and TextureB when I copy it should I make it replace the Pc's?
---
#7
12 years ago
Yeah. Here's my low-tech explanation of how (I think) the system works: Each appearance is like a playing card. Every card has a different number, suit, etc. The appearance.2da tells the game which card to use. What you're doing is telling the game to use the same card for your player. So you're stacking the deck. :D
---
#8
12 years ago
So I erase the PC's one and add the NPC one?
---
#10
12 years ago
Make sense I guess. But if My game crashes I blame you :lol:
---