#1
11 years ago
Well, I thought I'd make a KOTOR II FAQ. And seeing as I'm doing nothing right now, I thought I'd write this one now. The previous FAQ was rather general, and more related to KOTOR 1 and basic modding questions. Some might have been answered already. If you have any questions, feel free to ask them here.
This question has been copy-pasted and slightly modified, as the answer would be similar in both games. How do I install my mods? Usually, the modifications contain a README. If that would not be the case, follow these steps. First, download the modification you'd like to use. Once the download is complete, extract the files to a temporary location (ie. Your desktop). Depending on whether the modification is using a TSLPatcher or simply manual files, you'll have to approach a different method.
If your modification contains a TSLPatcher, the installation will be rather simple. Open up the executable file and follow the instructions. A pop-up will appear and you should choose the main directory of your game, which should be by default (C:/Program Files/LucasArts/SwKotOR2). The files should be installed automatically and you're all ready to play.
The manual installation is not much harder, actually. Extract your downloaded mod to a temporary location, such as your desktop. Open up the *.zip/*.rar and once again, a README should be in there. If it isn't the case, try to do the following. The mod files should usually go into your OVERRIDE folder, which should be by default (C:/Program Files/LucasArts/SwKotOR2/Override). In some cases, such as movie-mods, the files should go into the corresponding folder (ie. Modules folder). As you can see, the installation of modifications is quite simple once you know what to do. What do I need to do if the TSLPatcher is being used to install some of my downloaded mods, whilst I have my .2da files in a folder in override? Just to avoid any errors, it's best to move your .2da files to your main override folder, and not a folder within. That should solve your problems.
It seems my game crashes many times at a certain point in-game. However, I do have loads of modifications installed. I'm not sure if they're compatible. Any suggestion? My suggestion would be to use the handy management tool, known as the "Kotor Mod Manager". It keeps your mods in-check and warns you whenever a file is about to be replaced, or conflicts. You can download the KOTOR Mod Manager HERE. Several of my mods seem to use the global.jrl file (which is the journal). How can I ensure the compatibility of these? Best would be to use the tool, entitled as "JRL Merger". It's rather easy to use, and it ensures compatibility to your journal file (if done correctly). You'll need the unaltered .jrl file, and the two different/modified ones. It will merge them into a new .jrl file, which includes the changes of all. Simply extract the new .jrl file into your override once the merge is over. You can download the JRL Merger HERE. I'm using Windows Vista and I keep getting error messages. I do not have any fixes installed, however. How could I possibly fix this? Fortunately, a Windows Vista fix has been provided for KOTOR II. This should solve your general starting/restarting with Vista. You can get the Windows Vista fix here. TSL Windows Vista Fix, Knights of the Old Republic 2 Downloads, Knights of the Old Republic 2 Patches
I am experiencing a severe amount of FPS downage whenever I'm visiting Dantooine. How would I solve this problem? This problem should be fixed easily. At least, it helped my issues most definitely. Your game installation should have a file called "swkotor2.ini". Open that file with notepad or any other text-editing program. Scroll down to the header called "[Graphics Options]" and open a new line. You should add the following: "Disable Vertex Buffer Objects=1". After you've done that, simply save your changes and start your game. This should solve your lag-problem on Dantooine and possible crashes. How can I enable cheats in KOTOR II? It's pretty similar to the method of KOTOR. Go to your main game folder, which should be by default (C:/Program Files/LucasArts/SwKotOR2) and open up the "swkotor2.ini" file. Locate the header "[Game Options]" and open a new line. Add the following to it: "EnableCheats=1", save your changes and go in-game. Press the "`/~" button and it should open the cheat console. However, the cheat console will not be visible in KOTOR II, unlike KOTOR. I intend to mod this game very soon, but I'm new to it. Are there any tutorials available that could help me out? Yes, of course. Some nice tutorials can be viewed HERE and HERE. But of course, you'd also need modding tools if you are ever to make mods yourself. You can view a collection of modding tools HERE. Is my video card supported or not? View a list of supported video cards here. LucasArts.com | Yoda's Help Desk And a list of unsupported ones. LucasArts.com | Yoda's Help Desk Everytime I enter the Telos Hidden Academy, I seem to get a [CHEAT NODE] issue after talking to the handmaidens. How can I fix this? If you have a savegame before entering the academy, you should load it. Once you have, you should speak to the Handmaidens you encounter instantly. When they ask you to drop your weapons, don't choose that option immediately. Ask them who they are first. If you drop your weapons immediately without asking them who they are, you'll activate the cheat node. The second thing is yet another solution, which would help if you don't have a savegame before entering the academy (and an easy option to those who are familiar with the Kotor Savegame Editor). Open up KSE. Should you not have it, you can download it HERE. Then, all you have to do is set the global variable "262TEL_Atton_Talk", to "1". (Darth333's screenshot).
Spoiler:
Show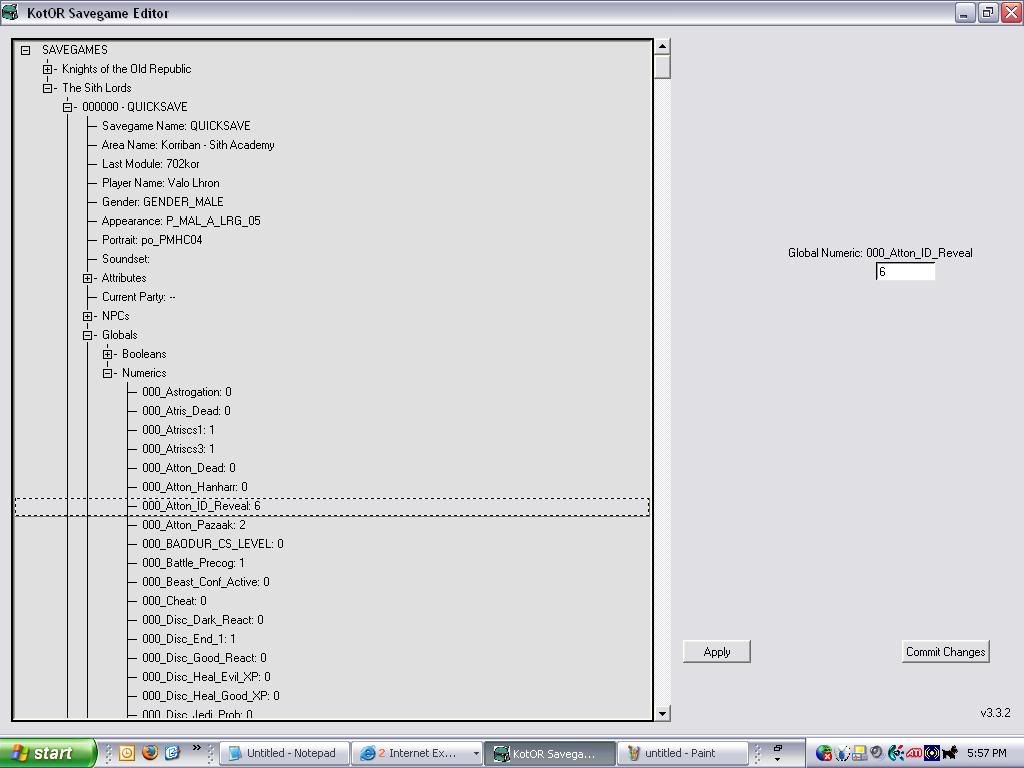 I hope this helps those who have encountered some SWKOTOR 2 problems. This list will be updated regularly. Have fun! :)
---
Formerly known as Graeme and Arld.
#3
11 years ago
Well it doesn't look like i've had good luck because im stuck on telos academy and i've tried everything and it still won't work like i said if you guide me through what i have to do one little step at a time then it'll be easy.
---
#4
11 years ago
Perhaps if you could provide better details in regards to your issue, I could have a better chance of helping you in getting rid of your problem (use proper punctuation this time please, as I had troubles knowing what you were talking about last time). Did you try to avoid to drop your weapons instantly when they asked you to?
---
Formerly known as Graeme and Arld.
#6
11 years ago
Good day.
I am looking for some assistance with my TSLPatcher. I am not very good when it comes to mod installation as I have never been into modding in my past months/years. Anyway, when I go into TSLPatcher and when it asks me to pick the directory for where my SWKOTORII is, it will not give me a pop-up, I may be wrong as this is my first day of attempting it.
A example of it.
I had a post in another thread which I mistakingly thought was this. I appologize for that.
---
19th August 2009
0 Uploads
#7
11 years ago
@ dart,try dropping your weapons instantly
---
#8
11 years ago
If you have paid attention, you would have noticed I asked him the same question. His answer to that was 'yes'. As for you Dart, I'll be sure to dig a little bit deeper and try to find a possible solution.
---
Formerly known as Graeme and Arld.
#9
11 years ago
It is my first run through with the TSL. At the Telos Academy, the handmaiden sisters are not there. The name bar that shows when my cursor is over them appears and I cannot move through them, but they are invisible and cannot talk or anything.
---