#1
10 years ago
well I want to download mods that require one to use the patcher. buuuut when i go to actually download the patcher i cant find the correct dirrectory... i run on vista by the way. and i have no clue what to do there is plenty of mods i want to play... but due to this problem i cant do it.:bawl: any help at all will be helpfull.=p
---
2nd September 2007
0 Uploads
#2
10 years ago
Huh? If a mod uses the patcher, the patcher installs itself when you download the mod. No need to download the patcher separately, unless you plan to make your own mods.
---
#3
10 years ago
i mean when i actually dl the mod that uses a patcher...i start it... but when it asks for the directory i cant find it...i am thinking its a vista problem...but i am not sure.
---
#4
10 years ago
sorry for the double post well my problem is, i cant find the sw kotor II directory file...when it tells me to browse its just not there.
---
6th November 2007
0 Uploads
#5
10 years ago
Default path should be C:/Program Files/ LucasArts/ SWKOTOR2
Did you do that?
---
#6
10 years ago
yes i figured it out iw was looking in the wrong folders. but now i have a new problem. its missing changes.ini when i try to install a new mod and then it wont install and i dont know what that means... or how to fix it
---
6th November 2007
0 Uploads
#7
10 years ago
Hmmm... My advice to you would be to either reinstall the game, or MAYBE you can make a copy of the KOTOR 1 changes.ini and paste it to your KOTOR 2, but I'm not sure about that...
---
#8
10 years ago
i tried reinstalling the game letting it erase everything but it wasnt there sadly let me get a picture of it all.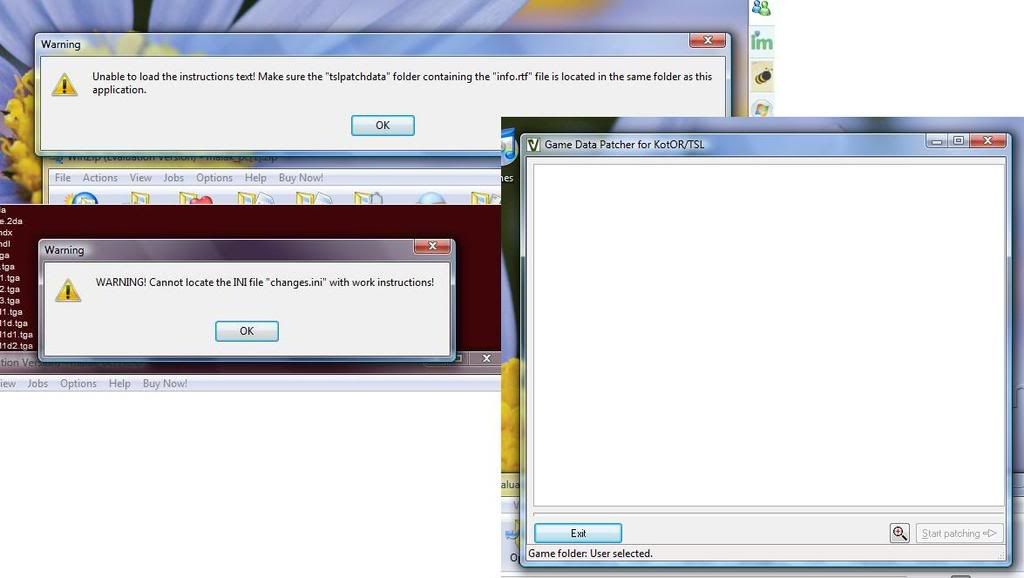 ---