#1
13 years ago
I'm on the verge of building my own PC. I don't wether to go for a CRT or LCD. Dome lots of research but can't make up my mind. I'm looking at either a Viewsonic Vx922 19" (response time of 2 ms-ouch!) or a Viewsonic professional P227FB. Can I assume at the top end there's nothing to distiguish lcds and crts when gaming? That LCDs are just as good now as CRTs? I've read numerous articled but they are old (12 months). I'm interested in peoples opinions particularly those who have top end models? Thanks
---
12th November 2003
0 Uploads
#2
13 years ago
flatscreens look nice, but I still prefer CRT.
---
7th August 2004
0 Uploads
#3
13 years ago
I would say take the flatscreen if you got the money, it isn't a large-bulky-sonofarepublican thingy on you desk
---
#4
13 years ago
Indeed, a flatscreen gives nicer colors.
---
29th December 2005
0 Uploads
#5
13 years ago
I don't exactly have a TOP of D line. But I am very happy with my LCD, coming from a CRT. Everyone's eye's are different, and what I see, may not be what you see. And opinions on screens are vast in variations as cpu cases. Best advise is to find a store that has one on display and check it out yourself. then it's a question on wether or not you want to go wide screen or not. I've been very happy with mine and have purchased more for the other cpus in my house/network.
---
#6
13 years ago
Everyone who has a flatscreen appears to swear by it so it really does appear they have improved greatly so I'm confident I won't go wrong if I buy one. Just a question of getting rid of those misconceptions by talking to people . Nice rig btw Aristotle.
---
29th December 2005
0 Uploads
#7
13 years ago
Hey Thanks! I gamed on a CRT for awhile, and making the switch to my widescreen LCD made all the difference in the world. Initially when LCD's came out I was not impressed with the image quality, ghosting, etc. But with all that now being equal, and a number of LCD's now that are in the 2ms, image quality is virtually a wash. then it comes down to the rest of the pro's and cons, and LCD wins over as being cooler looking and most importantly, saves you a TON of desk room. On top of that, alot of really nice gaming LCD's are all VERY affordable now. I picked my screen up for around $360 dollars out the door and it's been left on ever since. it seems to keep up very well with my video card, and I am more than happy. first several days I was literally gaming with my jaw dropped, and my wife easily got annoyed every time I asked her to check out every aspect of the new screen. LOL I can't see going back now, too many pro's now in the way of LCD's. CRT's are now going the way of the dinosaur, along with roller ball mouse, floppy drives and 56k external modems.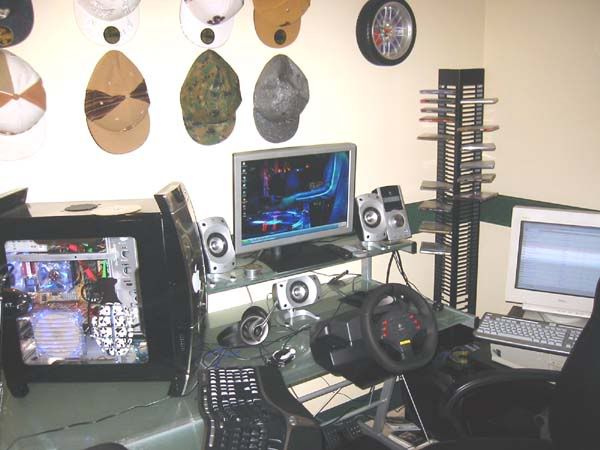 The only CRT I have left is tasked with my mail server.
---
#8
13 years ago
OMG!!!!!!!:eek: :eek: :eek: :eek: :eek: :eek: :eek: :eek: I've never seen anything like that, but perhaps I haven't been around much. What a set up! Brilliant.:bows: :bows: :bows: :bows: :bows: :bows: :bows: :bows: :bows: :bows: :bows: How do you find time to be married?
---
21st February 2005
0 Uploads
#9
13 years ago
Go for the LCD. I own the Viewsonic VX924 19inch LCD, 3MS, and I love it to death. Blows my old Viewsonic CRT out of the water. The VX922 is a good choice. Its well worth the money!
---
#10
13 years ago
I've gone from a 17" CRT to a 19" TFT and i've never looked back. I get loads more desk space, I can play in 1280 x 1024 and the picture quality looks loads better oh and my eyes don't ache as much after extended use.
---