#31
14 years ago
Okay, I think it might be some kind of limit in FireFox.
I've now got the actual download manager microsoft give ya when you start the download and so far, it seems okay. I'll start cheering when it gets over 2 GB though.
I'm using the 32 bit version. Only my main PC has 64 bit and I don't want to put in on there. Plus it was another gigabyte.
---
#32
14 years ago
carl4286How do you get a product key?
Go here to get a key:
http://www.microsoft.com/windowsvista/getready/preview.mspx
Scroll down the page and begin a download. Eventually you will get asked for an email address, and they will send you a key.
And check your PM's.
btw - the servers seem fine right now even though before I started my DL, they said high volumes were being experienced. I'm currently getting the x64 version at ~700kb/s, and it will finish in a little over an hour.
---
#33
14 years ago
FN_lewrbm69i have my A+ that was the first thing i did when i booted up to cheak how my boot sequence was set up.
I also had this problem and I think I have a solution. For some reason, some DVDs will only be readsble to the computer that created them. Try burning the DVD from the computer your going to use it in.
If you can't do this, I managed to install Vista using Daemon Tools, and creating a virtual DVD drive and starting the installation.
I hope this helps.
---
1st January 2006
0 Uploads
#34
14 years ago
J.C. DentonJust a note, only use the 64-bit edition if you have a 64-bit processor.

Just to make sure that everyone knows.
there are no 64 bit drivers for my modem i have both and you can run the 32 bit
---
#35
14 years ago
Has anyone managed to get this thing run properly without any errors? For some reason I need to choose 'Last Known Good Configuration' to get to boot without crashing, lol.
Also, someone asks for screenshots I think so, here they are...
---
17th April 2006
0 Uploads
#36
14 years ago
[COLOR=black]Ok so it took a while to get vista installed and working somewhat correctly but i finally did it :)
After a couple of hours getting ZVista 64bit drivers for my audio and 3d crad i finally managed to get onlne and get my sounds in order. When i first started up Vista i noticed alot of things that were not right.Fisrt i noticed that the were no H's anywhere and for some reason windows acted like it didnt reconize the letter H.lmao well after a lil while of playing with the new settings and gadgets i decided to install TS2 and get it running..DAM was it alot of work to get the sound devices to be reconised..long story..anyways after a few hours of dealing with so many bugs i have decided to go back to my Xp64bit atleast untill there are some more updates fixing some of the bugs.
Other than the bugs that i saw i really REALLY like Vista!It has some really cool features and looks GREAT! All of my windows are clean and have a great look when opening and closing them.When booting up windows i noticed that the Vista OS is much slower that xp64bit.
NOTE: The biggest problem that i noticed was right after booting up Vista my CPU would be low but my used memory was at 56%..NOT COOL i have 1gig of Muskin Pro and i would deff think that that would get me by for atleast a while longer even after the full release of Vista was released.If i only have 46% memory left after boot then i know for sure that multi tasking is going to be very difficult.I imagine its going to be ruff tring to Game as much as i do with Memory resorces being used like they are :([/COLOR] Main Post with Pics@ http://www.the-dirty-south.net/forum/topic.asp?TOPIC_ID=168 Vista 64-Bit 4.01 gigs took a while! If you get a message saying that the servers are full right now just keep tring them..it took 15mins but finally i recieved my download :)
---
#37
14 years ago
Awww, boo. I've been using a Vista theme pack for XP, and it seems it looks the exact same as Vista (go figure :p) No new look for me then :(
---
17th April 2006
0 Uploads
#38
14 years ago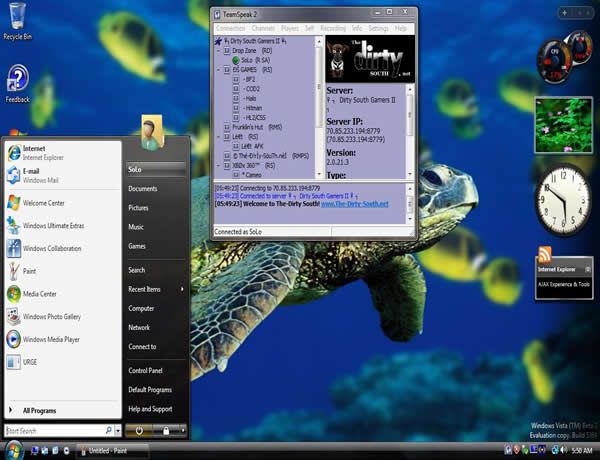 ---
#39
14 years ago
Well, I have the Beta, but I haven't installed it yet. I'm waiting for SuSE 10.1 to finish downloading, so I can attempt a dual-boot with Vista. I was going to play with it in a VM in the meantime, but I imagine the performance will be horrible, so I'm not going to bother.
---
#40
14 years ago
XP w/Vista theme.
---