#1
12 years ago
I have my mind set on 2 actually : Zalman's CNPS9700LED & Thermaltake's MaxOrb II, or something. Pluses, minuses - this is Phenom 9950BE overclock, afterall. :) Probably try to oc it past 3.0GHz (wish me luck) so good CPU cooler is a must. Also not just Zalman or Tt - CM & others, in short any AM2+ based cooler that come in handy with 3.4/3.5GHz oc. :cheers:
---
23rd October 2007
0 Uploads
#2
12 years ago
#3
12 years ago
Thanx Pilla. :) Saw this heatsink on Newegg site u provided, saw review, saw it in my local PC store (it's being there for quite a while) & can tell u this : the faster, the better. Keep suggesting, not that this one is bad though. I need, NO - i need all the info & options i can get. Thanx, regardless of what i said. :rock:
---
25th November 2003
0 Uploads
#4
12 years ago
This:
Newegg.com - XIGMATEK HDT-S1283 120mm Rifle CPU Cooler - CPU Fans & Heatsinks
That's one of best air cooler you can get at the moment, its a good bit better than the Zalmans, and most other expensive coolers that cost twice as much. I own one, it keeps my Xeon extremely cool, its at 23C (idle temp) right now. Its not heavy either at only around 600g.
Look here to see how it compares to others:
Top 5 Intel & AMD Heatsinks on Frostytech
Being an E8400, it runs hotter then your AM2.
Not a 9950. Those things are either 140W or 125W right out of the box, not to mention when overclocked...
---
#5
12 years ago
Thanx. The only prob that will remain is ordering it to Israel, though i doubt it will drain all my nerves. :) My 9950 is 125W TDP, 15 degrees less than 140W part. It will still run hot, esp if i'll reach 3.5GHz clock but not that hotter than 9850. Blame 65nm process. :lol: jk And it's also the reason i want quality heatsink. If this Xigmatek is of good use in my PC i'll let u know. Keep suggesting. Got myself covered in raw wattage & overclocking though, HX1000W can keep up with upto 3 GTX 280 & more than 30% Phenom/C2D/Q/E OC - that's what Corsair PSU suggestion page says.
---
#6
12 years ago
The only heatsinks I will recommend these days are the Xigmatek (along with all the other HDT versions made by different makers) and a Thermalright TRUE. The latter performs the same as the Xigmatek but if you lap the base temps should be slightly better, but be prepared since it costs almost twice as much. With that being said, I would definately go for a Xigmatek. They perform amazingly for the price, the only downside is that you need to get a bolt-on kit separately if you dont want to deal with those dumbass push pins but its not a big deal considering a kit runs $5-7.
---
#7
12 years ago
Xigmatek then, eh ? I'll consider it. What about Thermalright to keep 3.5GHz clock cool'n'quiet ? :) Plus which one of those 2 u suggested have thermal paste in it as well ? Googled few months before this post & i have to tell, i'm off with your suggestions rather then keep searching for almost nothing. Thanx anyway, m8.
---
#8
12 years ago
Chances are you'll have to be pretty lucky to get your Phenom to 3.5ghz without using water. I would say sell her off since the Phenom II's are right about to come out. But if you want to stick with the 9950, make sure to sink all your mosfets since you're going to need around 1.6v on that sucker to get 3.5ghz on air.
Thermal pastes pretty much come down to preference. I would suggest looking into getting some OCZ Freeze, Arctic Cooling MX2, or Zerotherm ZF100. They all perform within 1* of each other and it all just comes down to cost and availability.
---
#9
12 years ago
WHOOOAAAAAAA !!!!!! Slow down m8. :lol: First of all, by Phenom II's u mean 45nm Phenom X4/FX's for AM2+ ? 2nd - sink mosfets ?! 1.42/1.35 with multiplier x13 & HT/CPU frequency increased close to 270MHz, close to 3.5GHz clock - check the Phenom's OC World Record in Google/YouTube, or something like that. You can get it on air if u won't overvoltage/clock WAAAAYYY beyond that. I saw it, m8 on some overclockers website. I saw it ! There's much to the 9950 overclocking potential, than simply staying with the default clock & increasing vCore/multiplier : checked the oc'ers forum i mentioned above & saw the CPU-Z/Pi/"regular" vCore/HT clock increased, all while on air. Mate, i experimented with CPU overclocking since i 1st heard of RivaTuner, which is late '99/2000. Now i just ask for help in finding good heatsink/fan to AM2+. You don't need to worry about the fact there r some new 45nm Phenoms around the corner. I know that too. :) Thanx nevertheless. Most probably i'll increase the stuff i mentioned above & when new 45nm CPU's arrive & start to replace the ones that now - i'll surely make the transition. OCZ Freeze, AC MX2, Zerotherm ZF100 - which is the most effective, m8 ?
---
#10
12 years ago
I've seen it too.
Spoiler:
Show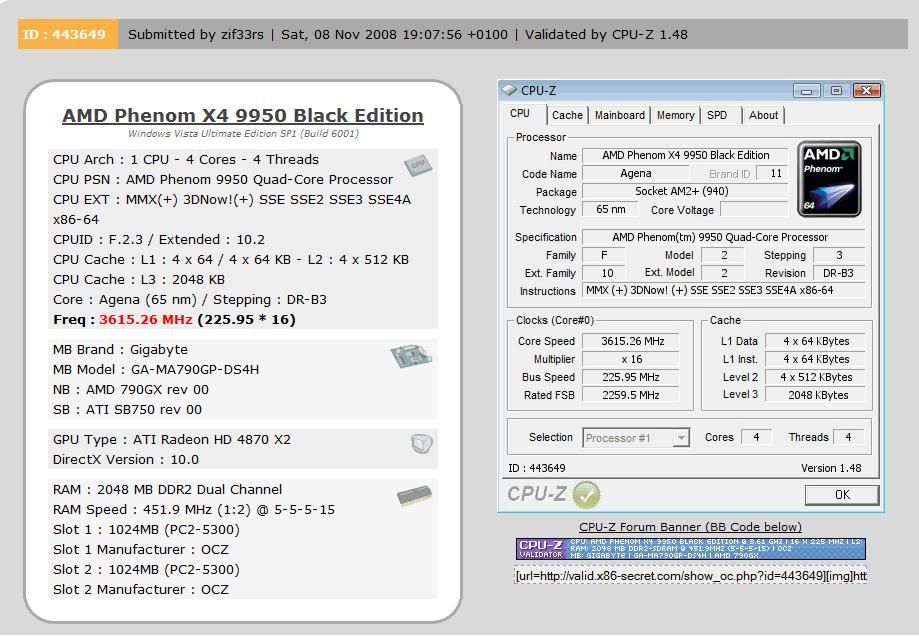 The Phenoms dont clock that well. This chip was on water and just because a couple of cherry picked chips will do 3.5-3.6 doesn't mean anything. By sinking the mosfets= puting heatsinks on the mosfets. Those 125w and 140w phenoms use alot of power and will often overload your mosfets if you dont properly cool them. All those thermal pastes all all the same as I previously said. it all comes down to what you can find and the cost.
Also, those phenom II's look pretty nice compared to the first phenoms.
Spoiler:
Show
---