#1
11 years ago
Ok well i used to play WOW and whenever you raid a village of the enemy faction ..... the ensuing chaos can only be raped up with one word; GUARDS! x 10000
I was doing the vampire cure quest and it was hell. Apart from my companion mod backfiring again constantly attacking me i have gone from a saint in fame vs infamy aspects to a scoundrel. Due to the massive amounts of GUARDS! i had to kill. Corse everything started about 10 gameplay hours ago when i some how clocked up a 10$ bounty. As if i would pay that right? so i did what any normal person would and led the imperial legion scout into a bear and watched. Problem solved right? well it was for along time till i went past the threshold that makes guards actively pursue you. As a result during the vampire cure quest which was hell i clocked up even more of a bounty fending off about 1000 towns people and guards. I even took shelter inside the fighters guild which worked as the guild mates defended me haha!. Any way once i finally finished my vamp cure quest i headed over to the count of skingrad to give him hes cure!.
Awesomely enough he doesn't seem to exist unless i talk to some lizard idiot. So yeah i walk in the front gate of the castle and BAM GUARDS11111oneone. After killing about 14 guards they finally pissed off. So i figure hey lets finish this quest now! as i proceed to talk to the lizard idiot whom supposidly will lead me to the count. The dumb npc bugged so it was all for naught! and now ive clocked up a massive bounty. I think its 10,500+ something.
kinda funny , this post is just sharing my story of a GUARDGUARDGUARD moment. Any of you ever tempt the wrath of an entire towns army? Looking back at all the bodies i didn't realise i had killed so many.
---
#2
11 years ago
I killed the adoring fan in public, everyone and their brother attacked me the funniest part of guards is watching 2 foresters fight for no reason, ending up killing each other
---
#3
11 years ago
nanobot_swarm;4124460I killed the adoring fan in public, everyone and their brother attacked me the funniest part of guards is watching 2 foresters fight for no reason, ending up killing each other
Every time i desecrate one of the local tombs in and city , if a ghost follows me out all the guards act silly and start attacking each other.
Good entertainment and nice looting , i had 6 bravil guards fight each other to the death only one fool walked away.
---
#4
11 years ago
lol i always see an argonian and a wood elf having a brawl in anvil for no reason and then walk away like nothing happened
---
Sovereign002
VIP Member
Adeptus Moderatus We purge with chain and bolter
105,915 XP
#5
11 years ago
nanobot_swarm;4124460the funniest part of guards is watching 2 foresters fight for no reason, ending up killing each other
I have seen that happen a few times too. I think it's because they accidentally hit each other with an arrow while hunting deer...
As for guard fights: go to a barracks, do to the sleeping dorms, steal something and make sure at least one guard sees you. Resist arrest, then run down to the mess, by now you should have the entire barracks after you, let them try and kill you for a while, then surrender.
When you get out of jail, head back to the barracks, all of the guards will be trying to kill each other, because most of them have hit one another when they tried to hit you. :lol:
---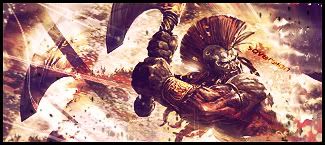 30th April 2006
0 Uploads
#6
11 years ago
If you go down to the Imperial City Waterfront; Walk onto the Pirate ship nearest your house and the Pirates will attack you. If any guards see this happen they will lay into the Pirates - on the odd occasion a bystander will get in the way and once the Pirates are down the guards turn on the innocent civilians. :rofl:
---
29th January 2005
0 Uploads
#7
11 years ago
Most I've done with a guard was this-
I did this both in Skingrad and Anvil- I used a high level frenzy spell and got the civilians angry and caused a riot. The guards came in obviously and started killing everyone (it was funny though seeing the one or two Mythic Dawn Agents suddenly go into their armor and fight) and the guards then turned on each other when they accidentally hit one another. It was funny to say the least.
---
#8
11 years ago
I went and got an excellent bounty mod. It separates your bounties to their respective area's. For example if i got caught trespassing in bravil , the bounty would only exist for bravil and its guards. Which seems lot more realistic i mean as if it would be world news that a person trespassed on some random persons house. Though that said if you go over a bounty of around 2.5k (adjustable) in any area , it becomes a global bounty so you can't get away with to much.
Also it adds a reduction to the bounty amount which can cease all together. After a user defined period your bounty will subside slowly to 0 so long as you don't commit any more crimes.
So needless to say i haven't had any major guard fights recently :(. But it does make life easier having mods like this.
---
16th January 2008
0 Uploads
#9
11 years ago
dude, what mod is THAT? i need that!
lol combine that with a cowboy mod, it would be glorious. "I've gotta get the hell outta Dodge -I mean anvil!"
---
Flodgy
I'm way cooler than n0e (who isn't though?)
50 XP
#10
11 years ago
Sounds like Reneers Guard mod. Either that or No Physic Guards.
---