19th November 2005
0 Uploads
#1
11 years ago
Now I could be wrong but I've heard some things on how some of the things promised to be in the game aren't. Like that the environment is all random or realistacly living or something like that. Suposedly trees would just out of no where fall and then re grow? I've seen fallen trees but then I went back and looked on another file and what do ya know...the same one is fallen the same way. And aren't the NPC's supposed to be more life like? I mean I have followed some around and they don't do much. I thought they were supposed to be stealing stuff and picking stuff off the ground depending on how poor or rich they were. I have never seen this. Now don't get me wrong, I think its a great game its just some things I could was expecting more out of...at least acording to reviews on the game before it came out. Any truth to this stuff?
---
#2
11 years ago
As far as I know, there was supposed to be a realistic NPC AI, but it backfired, as the developers found that in the search for food they would start killing each other, so they modified it.
---
Sovereign002
VIP Member
Adeptus Moderatus We purge with chain and bolter
105,915 XP
#3
11 years ago
I haven't heard that trees would grow back.They did say that people could randomly attack you in the street if they disliked you, people would round up and start cheering an your foe could yield to you if he saw he was losing...I haven't seen anything like that, NPC's can't even yield to you :(Even dumber, NPC never pay their bounties or go to jail, unless it's quest related. Which just means thieves will get haunted down and killed sooner or later.
---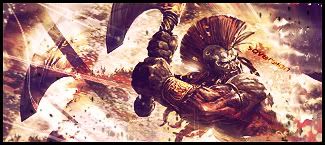 23rd April 2006
0 Uploads
#4
11 years ago
theres a limit to what ai can do. they tried making it so they could buy stuff, and one of the more agressive ai bought everything from every store in the market district!
---
25th November 2006
0 Uploads
#5
11 years ago
Well I remember being attacked by a bandit and a passing blade member helped out after defeating said bandit(together) It was he who looted the corpse, And all I could do was watch helplessly for fear of being branded as a thief GRRR!!! while some npc's acknowledges your exploits this has been already done many times in past rpg games and the eating of npc script was ditched because either they would kill each other or get stuck in a certain place and starve to death Yup they actually starve and get weak and eventually die. and they also loot and steal but it was ditch coz they would eventually pick pocket an important npc or blade member and start a free-for -all.
---
Signature brought to you by Carl's Jr.
19th November 2005
0 Uploads
#6
11 years ago
Are there any mods out there that will make the game more like what it was promised to be?
---