27th January 2003
0 Uploads
#1
12 years ago
12th November 2004
0 Uploads
#2
12 years ago
WOOT WOOT WOOT WOOT WOOT WOOTTTTT! sry yes finally. thx for the update Solid!
---
27th November 2005
0 Uploads
#3
12 years ago
7th December 2003
0 Uploads
#4
12 years ago
This is so cool! Exactly in the week after my last exam :) Now I only have to find a shop to preorder it.
---
27th November 2005
0 Uploads
#5
12 years ago
I better get my $70 ready for that Xbox 360 CE!
---
30th December 2002
0 Uploads
#6
12 years ago
Excellent news! No more delays.
One month from now, I'll be neglecting my family, my chores, and probably even my job as I'll be playing this non-stop. I can't wait! :beer:
---
19th August 2003
0 Uploads
#7
12 years ago
I'm about to pre-order the Collector's Edition of Oblivion, I'm so glad it's finally going to come out on the 20th!
---
20th April 2004
0 Uploads
#8
12 years ago
AWESOME! Haha i'd laugh though, if they put it onto the shelves, and just as they're about to open the shops to sell, all copies are taken back for final testing and geting rid of more bugs :D haha the poor hardcore gamers who would camp outside the shops. This won't happen mind you :P
---
Sovereign002
VIP Member
Adeptus Moderatus We purge with chain and bolter
105,915 XP
#9
12 years ago
I'm not planning on pre-ordering the game, but yesterday I had this idea of: 'imagine you enter the shop the 20th and they're all gone, the whole shelf is empty! And you ask the guy were is onlivion gone to?! And he answers well its sold out already....Nooooooooo' Still this is belgium and everyone I spoke to in my school doesn't even know what oblivion is so...it'll be there don't worry....or not?
---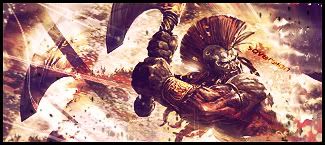 7th August 2004
0 Uploads
#10
12 years ago
exelent, gona buy it tomorow if I have time
---