#2
13 years ago
M'aiq the Liar was also in Morrowind just like other things such as Goldbrand and Umbra.
---
#3
13 years ago
I've heard that Chrisamere is in Oblivion.
---
#4
13 years ago
Really? Well considering how hard Chrisamere was to get in Morrowind it might take a while for anyone to get it.
---
#5
13 years ago
I found something odd in oblivion. On the way to Weynon priory, near the IC and some fort ruins i found a lake with a corpse in it. On further inspection the corpse had a lily and some kind of note saying something along the lines of "i'll be the one in the city holding a lily"
Sadly i dont have the game installed anymore so i cant post any screenshots
---
Sovereign002
Advanced Member
Adeptus Moderatus We purge with chain and bolter
105,915 XP
#6
13 years ago
Ok, what is the story with this M'aiq the Liar, I've seen her/him, but what is so special about him/her?
---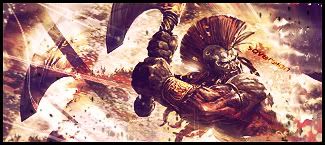 #7
13 years ago
he tells you about random crap like (in morrowind) mulit-player, climbing ropes, and other random stuff that I can remember right know.
---
#8
13 years ago
ya he says some stupid things about dragons are invisible and that horses r actually in Vvardenfell just hiding and something....uh....something....lets stick with that ;). thats in morrowind. in oblivion he wont say as much to me.
---
#9
13 years ago
ok two things, Chrysamere does NOT exist in Oblivion (i know this for sure, i looked through the Construction Set) and M'aiq the Liar Does exist in Oblivion, and he has a pressing need to collect Calipers from Dungeons. and in Morrowind he tells you the Location to the Shrine of Bothiah (under water near Khartag Point) which then gets you the lovely sword Goldenbrand (and using an easter egg, if you pick up 11111 gold, it turns into Eltonbrand, and says "To to Hell Carolina!")
---
#10
13 years ago
It was a romuor that Chrysamere was in Oblivion ( I might have miss heard what my friend said)
---