Sovereign002
Advanced Member
Adeptus Moderatus We purge with chain and bolter
105,915 XP
#1
14 years ago
When you find your first ayleid statue in one of the ayleid ruins, you'll be able to start a mission to find the rest of them (10 in total) for a man named Umbanaco... When you've found a couple of those you'll be getting a new mission, and after that one you'll have to escort Umbanaco to an Ayleid ruin called Nenelante (or something like that). The people who've played this quest know what I'm talking about... Now my question is: When you need to find for the 'helmet of the last ayleid king' you have 2 choses, I chose to believe that woman and find the 'Lindai helmet'...after which Umbanaco gets electrocutated when he sits on the throne in Nenelante...So what's the alternate ending? What happens when you gave him the real helmet. I just wondered and since I'm not planning on playing that quest again and making different choices I decided to ask you guys...I'm sure someone has made a different choice than I've made...
---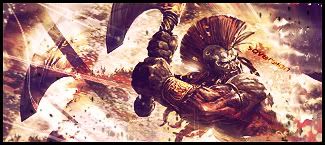 #2
14 years ago
Well simply: you must fight against Umbanaco. He turns a lichs or something like that and try kill you and well same time some secret doors open and Umbacano gets skeletons to help him figth against player.
---
29th January 2005
0 Uploads
#3
14 years ago
Umbanaco gets possessed by the spirit inside the helmet, and goes mad with some belief to rebuild the Ayleid Empire. He unleashes a horde of baddies to attack you, and you must kill them all. Killing Umbanaco will satisfy the trigger, but there has been cases where people leave jail and the baddies they fought in there for some reason are there.
I was able to run off with three skeletons alive though, and nothing happened.
---
#4
14 years ago
yeah when i did it I got bounty when umbacano died from puting on the wrong helm, ???weird???, but then weirder when I was in Bruma just leaving the gatesI was greated by Umbacano and an army of headless zombies.
---
#5
14 years ago
wierd and if the guy who also goes with u lives he goes to the inn in talos plaza
---
Sovereign002
Advanced Member
Adeptus Moderatus We purge with chain and bolter
105,915 XP
#6
14 years ago
Ah no too bad he died with me, he wanted to walk away, didn't seem to notice gates had opponed and he was being surounded by linches and skeletons...he fuoght well, but died. I electrocutated the rest with a staff of greater shock (50shock in 15 m)
---