#1
12 years ago
So basicly, I'm having a moral dilemma. I have always laughed at people posting girl problems on a gaming forum, this is not one of those threads. Most people that know me in real life know my habits and are not bothered by it. Though since yesterday, I'm having second thoughts about my way with women. So I just thought I'd make a poll on a forum where most people are NOT like me, or too young to be like me, to see what the rest of the world might think of my actions.
Please take the poll seriously, and try and give your opinion backed up with reasons. (Asswipes with smartass comments, go play counterstrike and go act like an e-thug somewhere else.)
Still interested? Read on.
I like girls, ok? Nothing wrong with that. I, however, do not like relationships. I've tried a few, some lasting more then a couple of months, one of them even lasted almost 3 years. To get around this problem, I've been whoring around for years now to say it bluntly. I'm not ashamed of that, and I still enjoy it (so do most girls). I'm 22, I live on my own, so why the hell not.
In all fairness, I'm a very nice guy towards girls. I'm sweet, sensitive, caring, and I'd go through a lot for the better part of them. I've even often been accused (even by my own mother) of being too kind to them, and doing too much for them. I'm not saying this to brag, but to help you create your opinion on me.
HOWEVER (and here comes the dark side). I've ended up hurting A LOT (not all) of them. Several reasons for this; For the most part I am and always have been not interested in single women. I think I just want to make it more of challenge for myself for some reason.. I'm not into easy girls, so that cuts out the fact that I'm whoring around with (dare I say it) 'sluts'. I have gotten girls to break up 5-6 year long relationships for me. After this, I have a good time with them for about 2 to 4 weeks on average. That's when I (not on purpose) get bored with them, and go out to find someone else. Obviously leaving most of them (some understand) thinking I'm an asshole.
This is the way it's always been with me, and I have never felt really bad about most of them for too long. Because I know for a fact that I have showed them good times and cared for them, right up untill the moment that they break up with their boyfriends and try to get serious with me.
Though, recently.. I had gotten to a point where I had 2 cellphones (I know:() and was actually having trouble getting girls out of my house because others showed up unexpected or called.. At this point I started lying to them and making up excuses. This was last June when I said to myself, Nick, you disgust me. and I started taking it slow.
So here I was, I had seen the light and hated myself for what I had become. And you guessed it... Into my life walks the sweetest, most beautiful girl ever (pro photographer and model herself).. She was perfect, smart, lived close by, shared a lot of the same dreams with me, etc, etc.. Maybe this will help you understand:
Spoiler:
Show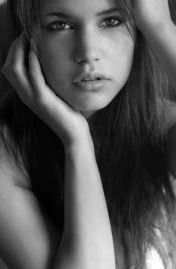 We had good times for about a month, after this the horror started. I found out she had another guy (probably on a leash, just like me). Started accusing me of things, lying, disappearing for days.. And a lot of other shit that I had to find out through her friends.. (who told me, because they knew I much I did for her, and actually felt bad for me) I was getting hurt really bad. It was like a punishment from God (for those of you who believe in such a thing) or just karma backfiring on me really badly. So I got myself together and said to myself, quit it.
I did, few weeks went by and here we are. Yesterday, I was sitting here in my room. 7pm. When my roommate got home (female, and no, I have never.) with a girlfriend of her. Cute girl, blonde curly hair, bright blue eyes, 17yo (I know:uhm:). So I heard my roommate say to her; "bye girl, see you at 9pm", and she left for work. So, me being me, I get up.. Walk into the other room and find this girl sitting at a laptop. So I ask her; did she just leave you alone here? "yes, she's working till 9pm and we are going out after that" I said alright, can I get you anything? (just being kind, she seemed kinda shy). so I got her a drink and went back to my room. I was getting hungry, so I said to her; I'm going downstairs (I live above a small mall) to get a bite to eat, you want anything or wanna walk with me? She agreed to walk with my and we went for food and smokes, hardly speaking to eachother because she was still being shy.. At this point, I had still no intentions! So I thought, what the heck, she's got nothing to do, I'm bored, we'll drive to town and get a drink (weather was good for once).. She kindly took me up on the offer and we sat down for 2 hours, having a drink (no alcohol, I was driving). We talked a bit and I was just having a good time, still no intensions WHOT so ever. Just passing time.
We went back at 9:30 pm because my roommate got back from work and wanted to go out with her. She asked me to with them, but I was comming up with a cold and I have a long weekend ahead, so I kindly refused. I was sitting in my room again, the girls were changing and just being girls before a night out.. When they left, it started pouring with rain! I knew they were gonna walk and back (2x 30min), so I offered to drop m off and pick m up later that night. Just being kind.
5am last night. I asked them to call me whenever they needed a lift back. But I didn't hear anything still. All of a sudden 3 people come stumbling through the door! (yes, the walked back, they felt bad asking me to come pick m up) 1 of m was my roommate who went straight into her room with some guy :lol: But yeah, you guessed it... That left the cute 17yo bed-less and standing in my room not knowing what to do. oh bugger.. I felt bad for her to leave her on the couch, so I offered her a place in my bed. Explained that it was just a service being provided and that I had no intensions or anything. She took me up on it and got in next to me.. However, she was the one having intensions...:uhoh: and me being the weak piece of shit that I am... I did it...
Oh well, we all make mistakes. I was kind enough to take her to the trainstation this morning at 7am (she had work from 8:00 till 12:00) without having had any sleep. I thought that was that, people make mistakes. It wasn't my intention. and went to bed till 1pm this afternoon.. made coffee, took a shower.. all was well in the world of Nick...
tonight, my doorbell rang at 7pm.... guess who was there.... for me.... :( Yes, I am weak, always will be... So here I am, just back from the trainstation again for the second time today, with a moral dilemma! I do not want a relationship with that girl, but she is clearly too naive and likes me A LOT. Am I back to the old guy, not caring and just going to have a good time for as long as it lasts (probably till she gets too close for comfort). Or am I gonna make up for my mistakes, and tell her the truth.. Probably hurting her feeling already, and I gotta be honost, it doesn't feel natural for me to wave goodbye to these opportunities...
For those of you who stuck with it, thank you for reading. I'm gonna pour myself a scotch now and have good night sleep.
---
#2
12 years ago
The way you worded it, you made yourself seem like an asshole, as the poll suggests, and a very nice guy. Of course, every person has an asshole side. So let's put that aside for now. Now, every guy would love to have a good time. Of course, I woulden't know anything about that, but I've heard enough crap in school that I have a good idea. But, you have to think about the girl's feelings, as you stated, so that you know what you are getting into. Make sure that they are only in it for the sex before going through with it. You should change your ways, by asking them if they want a relationship before doing anything else. I say that you aren't an asshole. But, it really is your call. I won't vote, becaseu IMO, I think you are both, more so a nice guy.
---
#3
12 years ago
Thanks for the serious reply dude. But you see, therein lies the problem. Girls that are just in it for the sex, leave me cold. I refuse (90%) of them. I need a challenge for one. And maybe, dare I say; need girls that actually have feelings for me to get the best out of sex. I do not really like sex, just for sex. It's too easy, you can get it any day of the week and there's nothing special about it after a few times. I would even go as far as to say I'd rather not have sex for a month if it's just for sex.
---
#4
12 years ago
Hum, it simply appears your general attitude can get you to do things that can lead you into trouble :/ I cannot tell you what to do, but you might what to simply reconsider things. I'm not saying "Change! Wear metal underwear, or something", but find the 'why' in the things your doing and your outlook on life. I Guess what Im trying to say is check your motives. Good luck!
Personally: I think you need to check the way you view woman.
I voted 'change', not to say your an a-hole. But aren't we all?
---
4th September 2004
0 Uploads
#5
12 years ago
You're a player. You knew what you were doing with that 17 year old girl, you knew exactly what was gonna happen.
Question you have to ask yourself: Do you want a family? Do you want to have a wife, 2 and a half kids, a dog and a lawn you have to mow? Do want the "white picket fence"?
---
#6
12 years ago
Thanks, but I have the upmost respect for women. And as I said before, I will do anything for most of them, often even resulting in my own school and work suffering from it.
looking back why and what I'm doing is the reason for my current moral dilemma and this thread. What I have found out so far, and that I am NOT ready for a serious relationship unless it's an absolute dreamgirl like the one that caused my heartache. I need girls to have feelings for me, so I do need to be loved. Just not in a relationship way. I will often work for weeks, sometimes months to try and get a girl crazy about me, no problem. Those are my motives, a need to be loved by them, and a challenge to keep me going. those same motives are useless right up untill the moment they get to close for comfort, and want to start a serious relationship.
SeinfeldRules;4572304You're a player. You knew what you were doing with that 17 year old girl, you knew exactly what was gonna happen.

Question you have to ask yourself: Do you want a family? Do you want to have a wife, 2 and a half kids, a dog and a lawn you have to mow? Do want the "white picket fence"?
I swear to god mate, I did NOT have that intention with the 17yo. I knew from starters she was sleeping in my roommates bed. I was just passing time, trying to give her a good time, having a drink. but then my roommate got home with a guy, which led to her staying in my bed. If that wouldnt have happened, I would've never even tried.
and yes, I do want a wife and 1,5 kids. Not sure about the fence though. BUT, at the rate it's been going all my life, I don't see a problem with meeting the right one for it. I'm just have a lot of things a girl has to pass before they can be considered 'serious material' and i'm not yet worried about stuff like that, since I still need to finish school and want to move to America after that. with getting settles abroad, having a job, a house, comes the quest for that one female.
---
#7
12 years ago
It seems to me like you just don't want to settle down. You like the idea of being loved but not the idea of being with one person for a long time. Could I hazard a guess that you like changing things up and trying new things and never quite staying where you were the last day?
Edit: Meant you DO like changing things up, not don't.
---
#8
12 years ago
Hum, this is just a suggestion i'm throwing out, but what if you've been focusing to much on being loved and not enough on serving? What I mean is that instead of looking for ways to get their love, look for ways to help them out (which would include not pulling them away from their relationships). Most girls (heck humans) really want an honest relationship. When they get that, they will respect you for it, and romantic attraction will come from that eventually. Its harder, but it lasts longer. Just a suggestion. I've got a long way to go :(
---
9th December 2003
0 Uploads
#9
12 years ago
I'm about to go to bed so I'll leave it at a short reply (for now?):
I think it would be best to tell this girl the truth, if you explain it to her like you explain it to us she might feel upset but should understand. Atleast, she might and that would still be better off then keeping her on a leesh so to say and hurting her more when it becomes apparant to her in a few weeks or so from now.
As for the whole women thing in general, I can't really comment on that. For me a girl that is taken means "hands off" (but then again I'm too shy to do anything really to any girl, yeah laugh at me but that is my cursed personality...). If you realize you only end up hurting these girls and possibily yourself because of your ways and feelings... well you will have to try and change that. There is no way I can tell you how since I'm not in your shoes... besides trying to force a red flag upon yourself when that "hey hot girl and she's taken" alarm goes off. WHich probably sounds easier then it is but it should eb easier for you to change your ways then for em to change my ways... ;) Goodluck.
I know, quite a useless opinion perhaps since I know nothing about it and so on but meh. :beer:
PS: I can not vote on that poll. You are no asshole and you sound like a good guy but some of the things you do may hurt and upset others and make you an asshole in their eyes.... I'll go with "change" your ways, but I'd say "ajust/tune your ways". Either by trying to get into a long lasting relation with free girls or short can't-even-call-it-relations (with them knowing and agreeing on it). But I can't really advice you on how to deal with longterm relationship problems... :clueless: Well besides telling these girls you have these problems when the relationship is still short lived. :uhm: But as said, I can't really help you here... sorry Nick. :(
---
#10
12 years ago
lol highfive to the girless gammers club!
---