#1
11 years ago
http://news.bbc.co.uk/2/hi/middle_east/8463955.stm
tl:dr warning but there's a lot of shit about this man
Chemical Ali (Ali Hassan al-Majid) has received his 4th death sentence from the Iraqi High Tribunal.
This sentencing was for Chemical Ali's role in the Halabja gassing, from which he got his nickname from.
This sentence joins these other death sentences handed down to Chemical Ali
-A mass killing of shia's during their uprising in 1991 (mainly the one in Karbala) -A killing of shia's in Sadr City in 1999 -The Anfal Campaign which killed at least 100,000 civilians (some estimates go up to 200,000)
Who is Chemical Ali? Let us take a look back at this man and his crimes.
Chemical Ali was more or less Saddam's right hand man in the government (they were cousins, after all), and held different posts during the time, from defense minister, interior minister, intelligence ministry, and a military commander.
Rise to Power
Spoiler:
Show
Chemical Ali's rise to power was swift along with Saddam Hussein following the successful Ba'ath coup in 1968. During much of the 1970s he advised Saddam on what steps to take in order to secure full control of Iraq. During this time he was responsible for putting down the Kurdish rebellion in the north and the Shi'a uprisings in the south. He had also helped to push Saddam into agreeing with the Algiers Accord with Iran, encouraged by the US, to secure closer ties with the Shah and form a united front against Kurdish rebellions.
Along with other high ranking Ba'ath officials, they were responsible for opening the Iran-Iraq War in September of 1980, and starting the wholesale destruction of border regions on the Iranian side. Emboldened by Western support for their campaign they began to strike indiscriminately on civilian centers. The war dragged on until 1988, destroying anything Iraq had worked to build up in the process.
In 1983, he engineered the response to an attempted assassination of Saddam Hussein in Dujail, Iraq. A number of civilians were executed, the rest of the populace forced out of the settlement, and the settlement was then razed to the ground. Saddam Hussein received the death penalty for this.
Anfal
Spoiler:
Show
Chemical Ali was assigned control of the Kurdish Autonomous Region (Autonomous here being an empty phrase like it is in China) during the Iran-Iraq War, and it was converted to a military district. The Kurdish Peshmerga were preparing to stage their re-entry into Iraq from Iran following their expulsion with the signing of the Algiers Accord in 1974. The peshmerga were met by the Republican Guard garrison in the north, and started another campaign.
The Kurdish groups returning from Iran were indirectly aided by Iran, who had hoped to create enough of a situation in the north of Iraq to draw away Iraq's military from the main front with Iran.
Chemical Ali was aided by a small group of Kurdish collaborators and opportunists, who had sought to use the opportunity to finish old tribal rivalries and alignment with Arab nationalism. These people were used by Chemical Ali to legitimize his operations with the Kurdish civilians who had largely been detached from both the Ba'ath Arab nationalism and the revolutionary struggle by the Kurdistan Democratic Party and the Patriotic Union of Kurdistan, the two main groups at the time.
The Republican Guard had been dealt embarrassing defeats by the Kurdish Peshmerga, and the Republican Guard had been unable to defeat them completely. Chemical Ali had already declared martial law as a part of the establishment of the military district, but was angry that his plans weren't working.
So beginning in 1986, Chemical Ali opened up what would probably be what would thrust him up into infamy- the Al-Anfal Campaign. The Al-Anfal Campaign is largely considered to be ethnic cleansing now, as Chemical Ali utilized ground offensives and aerial bombing on all settlements, often not where the Peshmerga had controlled.
Internment camps were also set up, in order to concentrate Kurdish civilians. Men were separated from their families and executed, which left the camps to be filled with children and women.
A number of Kurds were taken out of the region to the southern deserts, where they were executed and dumped in mass graves.
This was followed systematic destruction of settlements, particularly ones that would help in "arabifing" the region. One such settlement was Qala Dizeh, which was completely demolished to the ground.
There was also the use of mass deportation (as was the case around Kirkuk), firing squads, and ultimately chemical warfare, which was most pronounced during the Halabja bombings.
At the time the western nations were fully behind Iraq. Many human rights organizations, particularly in Europe, attempted to get the world to realize what kind of people the nations of the west was supporting to get back at Iran. These pleas for help from the human rights groups and Kurds were ignored as the Anfal Campaign began to increase as the war against Iran began to slow down.
Towards the end of Anfal in 1988, Iraq deployed their chemical weapons on the border village of Halabja, killing in the process 5000 civilians and permanently crippling numerous more. The justification was that Iran had occupied the village.
The west had initially blamed it on the Iranians, and indeed CIA intelligence reports were forged to say as much. This was to mainly to shield Iraq from any potential fallout, and the nations of the West themselves. They had, after all, supplied Iraq with the tools to do its genocide.
After it was all done and said, the Anfal Campaign claimed anywhere between 100,000-200,000 civilians. Iraqi prosecutors placed the number at 180,000.
Human Rights provided additional information,
-Destroyed about 4,000 villages (out of 4,655) in Iraqi Kurdistan. Between April 1987 and August 1988, 250 towns and villages were exposed to chemical weapons; -Destroyed 1,754 schools, 270 hospitals, 2,450 mosques, 27 churches -Wiped out around 90% of Kurdish villages in targeted areas.
There was international condemnation of Anfal by this point (but information was suppressed in the United States). Chemical Ali proudly boasted
http://www.hrw.org/legacy/campaigns/iraq/chemicalali.htm
Spoiler:
Show
(Response to a question about the success of the deportation campaign): … Jalal Talabani asked me to open a special channel of communication with him. That evening I went to Suleimaniyeh and hit them with the special ammunition. [This presumably refers to the April 1987 chemical attack on the PUK headquarters in the Jafati Valley.] That was my answer. We continued the deportations. I told the mustashars that they might say that they like their villages and that they won't leave. I said I cannot let your village stay because I will attack it with chemical weapons. Then you and your family will die. You must leave right now. Because I cannot tell you the same day that I am going to attack with chemical weapons. I will kill them all with chemical weapons! Who is going to say anything? The international community? Fuck them! The international community and those who listen to them.
Do you want to increase the Arab population with these bloody people?.... We must Arabize your area [Mosul]--and only real Arabs...
A refugee crisis began to ensue, as Kurds began streaming towards Iran and Turkey (who had closed their borders).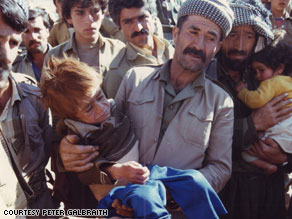 The Reagan Administration watched the events unfold with ignorance and actively blocked and discouraged any media reports that could harm Iraq's reputation, seeing Iraq as a potential regional power for the future and to keep Iran at bay.
One of the few vocal critics of what was going on at the time was one Peter Galbraith a member of the Senate Foreign Committee, who upon returning from a fact finding mission in Iraq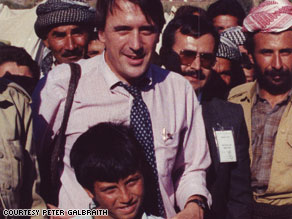 Peter Galbraith
Drafted with a number of other senators the "Prevention of Genocide Act of 1988"to stop aid to Saddam Hussein's regime. This was buried in the ground with active lobbying from the Reagan-Bush administration.
The Hague would later recognize the actions of Anfal as genocide.
With the Kurds completely broken and destroyed, Chemical Ali felt his work was done, and moved on to participate in the invasion of Kuwait, where he was appointed governor.
1991 Uprisings to the present
Spoiler:
Show
In 1991, Chemical Ali was responsible for putting down a Shia uprising in the south and a Kurdish uprising in the north, resulting in numerous deaths. Chemical Ali used the same tactics he had done in the north and did a systematic destruction of the area.
An uprising in Karbala (a major city) that year resulted in thousands of deaths, and some of Karabala was levels by the Iraqi army in order to flush out the rebels. Reports of young men and boys being taken to stadiums to be executed were also given. Civilians suspected of rebellion and insurgents were executed and dumped in mass graves with those who had died in the uprising.
Mass graves near Karbala were dug up following the 2003 invasion right up to even more recently
Shia villages were demolished as many fled to the border to escape the armies. There was also the order to destroy the marsh lands in southern Iraq, and in the result forever changed the geography of that region and destroyed an old lifestyle the Shia's had been living for years. Kurds, who were already broken from Anfal, were quickly pushed back by air strikes.
The 1991 uprisings in Iraq were encouraged by American promises of support which never came. The people by and large became more cynical towards the real American interest in the region.
The 1991 Uprisings resulted in a mass exodus to the borders, most pronounced in the north where at least a million Kurdish people were stuck on the border with Turkey and denied entry. The Bush I administration seeing this said it was a domestic disturbance that the US was not going to deal with. However when the decision was made to stop Saddam Hussein, Bush I suddenly changed his mind.
Bush II's administration would also make a similar move, digging up the ghosts of Anfal as justification for their 2003 invasion, and once more when the search for WMDs was a failure. Chemical Ali was caught early on after the 2003 invasion, and promptly charged with others for an array of charges. He has tallied four death sentences.
Kurds themselves universally despise Chemical Ali, who is termed the "Butcher of Kurdistan" among them. Their opinions on the court trial are divided. Some Kurds welcome the prospect of the execution of Chemical Ali (as they did with Saddam Hussein), but others argued instead for life imprisonment for both (they too have debates over capital punishment). Others had wanted them all taken to International Court at the Hague, feeling the Iraqi High Tribunal would be a political circus, and would have taken just as long anyways. When it was offered to have Chemical Ali executed in Halabja, it was met with strong opposition from the Kurds who had felt it was clearly a political move by that point.
Shia groups also welcome the news. Chemical Ali's role in the 1991 uprisings made him almost universally despised among their community (as are the rest of the Ba'ath).
And with that, Chemical Ali is on his way to the gallows. My reservations about capital punishment aside, it's obvious the US policy makers were using this a way to better justify their involvement in Iraq. Had human rights been a genuine concern, they would have done something about it far earlier rather than letting Chemical Ali be free for nearly 13 (20+ if you count the trials) years after the fact. Additionally, as the Dutch have already done, to arrest the firms and other people responsible for furnishing Saddam the weapons to do harm with in the first place.
Edit: Sentence was carried out on Jan. 25, 2010
http://news.bbc.co.uk/2/hi/middle_east/8479115.stm
---
#2
11 years ago
Death is too fair a treatment for this guy...they should hang him upside down and let people take a whack at him.
---
#3
11 years ago
Some would argue that Chemical Ali, rather than Saddam Hussein, had control of the government at the time. Saddam Hussein acted as the face of the state and to gain support from the masses, telling them their ideology and moves, while Chemical Ali made a lot of the day-to-day decisions and political choices to carry those out, a scenario similar to Hitler and Goebbels (ach, Godwin's law broken already :p)
But with him gone the last major perpetrator of the major crimes in Iraq will be history.
---
#5
11 years ago
I don't really care what is said about the politics around it, he got what he deserved.
---
#6
11 years ago
I don't think there's much people who say that he wasn't guilty of what he did, except for people thinking the Ba'aths had a paradise in Iraq or what he did was exaggerated.
I've even seen some people try to compare what happened in the Anfal Campaign to General Sherman's March to the Sea, to try and down play the killings.
---
Nemmerle
Advanced Member
Voice of joy and sunshine
299,207 XP
#7
11 years ago
He got off lightly all considered. You play a harsh game be prepared for the end to be very bad indeed.
---
#8
11 years ago
I'm gonna quote the tree huger I work with on the topic this afternoon:
Him: "I think what has happened was sad, but I'm sure this guy may feel guilty, but to sentence him to death is - just wrong. I'm sure he is sorry for what he has done. Just let him be, people need to be, like, nice and forgive, blah, blah, blah..."
Me: *interrupts the mindless gnome* "Are you f'cking serious?"
Him: *disgusted* "You know, your...this is what...you're just an ass!" *storms off* (typical).
Me: *chuckles* "And you're a dumbass, but thanks for the complement."
:beer:
---
#9
11 years ago
Well at least he admitted that Chemical Ali had done something. I really wouldn't mind if people had some qualms about capital punishment(that's his opinion and he's entitled to it), what is sickening is when peopledeny anything had happened in the first place, or act like apologists for them.
I had found this the case in some people trying to advance their views. I had some issues with what grounds the war was declared on, but when you begin bending the truth of what the regime did to justify your position, it's really no better than those still thumping around for imaginary WMDs.
---
#10
11 years ago
For guys like this I am a big fan of "Running the gauntlet"
You get two lines of people who are survivors and families of the victims.
You would then strip Chemical Ali naked and make him run between the two lines of people to the other end.
If he makes it out the other end alive he is free to go.
With a estimated 100,000 victims to his credit I dont think he would have gotten far so execution in this case may have been more merciful.
---