9th August 2003
0 Uploads
#1
10 years ago
Good day, fellow forumers.
Today we will be taking a closer look at T-Rexes.
Identification
The first thing we will be learning is how to correctly identify a T-Rex. T-Rexes are massive, seriously. They're bigger than your house, and probably bigger than your e-peen, despite what you might claim. They generally have a frigging huge tail, a face more hardcore than your usual saturday night pissup caught on photo and very short arms.
Let us explore this in a practical example:
Image 1: A T-Rex
Image 2: NOT a T-Rex
Image 3: Close, but not a T-Rex, note the lack of ferocity in its eyes.
Capabilities and Escape
Now that we know how to identify a T-Rex, let us examine what a T-Rex can and cannot do while chasing you through a shopping mall.
Their notoriously short arms make it virtually impossible to play drums, so one thing less you have to worry about is it laying down a paralyzingly awesome drum solo.
Drums: Not playable
If you are thinking of using the FYIAD method of escape (jumping into a helicopter whilst shouting Fuck You I'm A Dragon) - please beware that it is an urban myth that a T-Rex can't fly! They will simply don their jetpacks and swiftly give chase, sometimes even over entire continents.
Jetpacks: Boosty. Swooshy, too.
One possible method of escape is to have either an inflatable Velociraptor with you or find the real article on the way. T-Rexes are genetically programmed to stomp out any Velociraptors they encounter, no matter how many tasty wombats may escape in the process.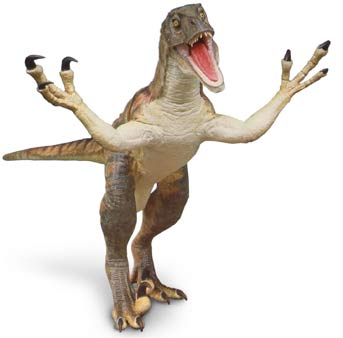 Velociraptors: STOMP, STOMP, STOMP!
Please beware however that this will not work with Raptor Jesus, as he will blast a T-Rex out of the way with a ray of AWESOME.
Raptorjesus: Holy shiiiiii-
Summary
In closing, do not attempt to smack wombats without a paddle, and carry an inflatable Velociraptor with you at all times.
Class dismissed.
---
#2
10 years ago
Are you sure that that last picture isnt a T-rex. It does look like it alot.
---
9th August 2003
0 Uploads
#3
10 years ago
Very. There is no mistaking Raptor Jesus. =p
---
#4
10 years ago
Is he selling it or eating it? Because I would like a bite.
---
#5
10 years ago
Jesus Christ! It's a raptor! become raptorjesus now!
---
#6
10 years ago
---
31st December 2003
0 Uploads
#7
10 years ago
Tyrannosaurus rex was a fierce predator that walked on two powerful legs. This meat-eater had a huge head with large, pointed, replaceable teeth and well-developed jaw muscles. It had tiny arms, each with two fingers. Each bird-like foot had three large toes, all equipped with claws (plus a little dewclaw on a tiny, vestigial fourth toe). T. rex had a slim, stiff, pointed tail that provided balance and allowed quick turns while running. T. rex's neck was short and muscular. Its body was solidly built but its bones were hollow.
[edit] More recent studies have shown that the T-Rex was, in fact, a ninja.
---
#8
10 years ago
Did somebody call for a half-assed crappy photoshop job?
---
#9
10 years ago
what about Allah-Saurs? anyways that lesson taught me more than 9 years worth of schooling
---
#10
10 years ago
Of course. Any lesson by lord wiener teachs more then 9 years of schooling.
---