24th September 2007
0 Uploads
#31
12 years ago
Huffardo;4018059Sorry to hear that, but don't let yourself be isolated, report the abuse and stop caring about the rumours. Try to find nice quiet people to be friends with, there are bound to be some, even if you at the moment preferred being alone at the computer you will sooner or later regret destroying your health and never developing any social skills.
I already regret that because I've already become borderline depressed and come closer to becoming depressed every day. and yes I have tried making freinds with people like me.
---
23rd April 2006
0 Uploads
#32
12 years ago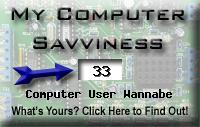 yesh! im taht 1337!!!!!!!!1!!!111one11!!!!!1oneone!1111!!!!!!!!!!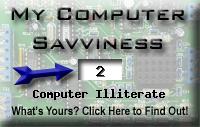 LOL! i had my mom take the quiz and thats what she got XD
---
#35
12 years ago
nanobot_swarm;4019533I got 1 point higher than your mom
AND THE CROWD GOES WILD!!!1! =p
---