#1
12 years ago
sit on mah lappy, and ill tell ye ah storray.
The Story of Gainang Forest by Fetter Zickleinmorder
Once upon a time, there was a land far, far away called Gainang Forest. Gainaing Forest was a happy land, with many carefree creatures and people. This was mostly due to the fact that the land was governed by the lovable and very fair monarch, Ash. If there ever was a dispute, Ash would immediatly resolve it quickly and fairly. His right hand man, Kimundi, was also very reliable and loved. But....... A shadow stirred in the lands beyond Gainang. This is the story of THE MANATEE HORDE.
One day, Lord Ash was walking among the commoners, exchanging greetings and gossip. Suddenly, he saw somthing from the corner of his eye: A man had grabbed an apple from a cart. Lord Ash thought nothing of this at the time. Perhaps the man was very hungry, or perhaps he simply wanted to taste an apple. But none-the-less, he felt it his duty to warn the man. He strode in the general direction of where the man took flight, and immediatrly saw the man grab a loaf of bread. This made Lord Ash somewhat annoyed, so he broke into a jog yelling, "hey you, stop!". The man stopped in his tracks and looked back at Lord Ash, a sneer upon his face. "Yeaaahh?" he asked in a surly manner. Lord Ash was confused. Nobody had ever regarded him with distaste, much less rudeness. "Do you not know that it is against Gainang law to thieve?" he asked. The man simply cackled and sped away, snatching at meats, cheeses, and other goods hanging from the stands. Lord Ash was a seasoned runner, so he took off after the man. He quickly caught up with him, and grabbed him by the scruff of his neck. "I warned you," he said in a sad voice, "and now you must pay the consequences. You are to be exiled for a short period of time from this land." The man simply stared, a hateful expression upon his face. Suddenly, he spat in Lord Ash's face. Ash was startled, and immediately let go of the man to whipe the saliva from his eyes. He didnt understand. WHy did this man insisit on breaking the rules? Once again, Ash ran after the man, yelling curses all the way. He grabbed hold of the man, and dragged him toward the city gates. "I hereby exile you from these lands, to never, ever return." he said. Then, he promptly drop-kicked the man out the gate.
In the days that followed, Ash was plagued by the violence he had dealt the man. He grew steadily more and more guilty before he reached a conclusion: He must leave his beloved land of Gainang Forest, forever and ever. On the day of his departure, he faced the residents of his land. He was going to give a final speech before he left for good.
_-_-_-_-_-_-_-_-_-_-_-_-_-_-_-_-_-_-_-_-_-_-_-_-_-_-_-_-_-_-_-_-_-_-_
Kimundi was shocked. Never had any monarch left the forest. He was saddened by this development. He also had reached a decision: He would form his own country. A country of rogues. He would call this place the Rogue Forest. He conversed with his fellow countrymen, most of which were noblemen of Gainang. They agreed with his plan, and swore to follow him wherever their journies would take them.
Around the same time that Lord Ash left the forest, a creature was seen on the outskirts of the city. This creature was unlike anything anyone had ever seen. At first, the people took little notice of it, going about their lives with blissful ignorance. But then, more of these creatures began to appear. They began to wreak havok among the city and the forest, creating time warps to send people back to other realms of sanity. No one knew what to do, until Kimundi appeared. He brought news of a land of goodness, with no manatees (this is what the strange creatures were being called), and best of all, an allegiance with Lord Ash! Most people were reluctant to leave behind what they had known for so long, but others were glad to leave. To this day, manatees still pollute the land of Gainang Forest, and still, many people refuse to leave behind that land.
But, there is still hope.....
THE END
Before you neg rep me, lad, take note of this. It was sarcasm. ye be warned.
---
Sovereign002
VIP Member
Adeptus Moderatus We purge with chain and bolter
105,915 XP
#2
12 years ago
You shouldn't speak of those places here.
Let the legends of forests far away, be but legends in this old castle...
---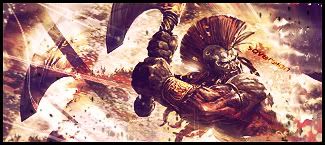 #3
12 years ago
you said the same thing there. C'mon, sov, i wanna have some fun.
---
#4
12 years ago
[COLOR=Red]FAIL[/COLOR]
---
Sovereign002
VIP Member
Adeptus Moderatus We purge with chain and bolter
105,915 XP
#6
12 years ago
Fetter_Zickleinmorder;3553483you said the same thing there. C'mon, sov, i wanna have some fun.
And I said it with reason...It is nicely written though.
---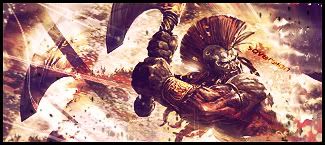 #7
12 years ago
How suspicious.
I don't need to sit on your lap for you to read me a story! - Unless you talk annoyingly quiet in which case you a megaphone >:
---
#8
12 years ago
hmmm, my penis.. bends to the left.
---