#1
12 years ago
Diplomats were closed-mouthed today, as word of FH's shockingly easy defeat of Spam spread throughout the government quarter. "Please, don't quote me. But I'm laughing my ass off at how Spam got pwned," said one embassy official in surprisingly un-diplomatic language. Some have asked whether the raid, if it is indeed a raid and not a full-scale invasion, might not lead to reataliation and spread into a FileFront-wide war.
But one interforum law expert had this to say: "It's been known for quite some time that Spam, by its very nature is very vulnerable to such an attack, but cannot mount any response/ You see, when Spam was founded, their spamstitution explicitly permitted 'spam'. But they may not retaliate in kind, because FH has no spam forum, and any spamming gets deleted, any like response by Spammers is, by law, a legal impossibility! Whoever came up with this idea in FH is a real genius."
More pictures of the massive devastation of Spam follow
No area was left untouched by FH bombs.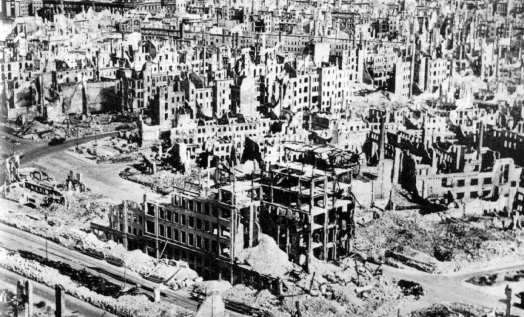 Dresden? No, Spam.
---
#2
12 years ago
It seems that they were caught sleeping, thinking that Spam-FH Non Aggression Pact would go unhindered. Ha! Fools...
---
14th November 2004
0 Uploads
#3
12 years ago
Spam.
---
4th November 2003
0 Uploads
#5
12 years ago
#6
12 years ago
Heh. My compliments to SeinfeldRules on his manly work of hyper-bumping non-invasion threads so as to mass memory-dump the whole show. Truly well done. But in a slight bow to the demands of history (or what passes for it where threads have a shorter half-life than Plutonium-233), I am updating a mere handful of relevant threads so that latecomers who missed the earlier festivities will have available a ready point of reference for any Daily Hates that Spam may want to conduct with an eye toward retaliatory contingency planning.
A word on your defense efforts. Apparently the guys in the defense bunker were pretty good shots: we did not return to our home entirely unscathed. If you look at my avatar you will note the red badge of infamy I seem to have been awarded since leading the FH raiders across your borders. Some apparently don't have the same spirit of play we wanted everyone to enjoy. We meant no harm, and I don't think any was caused - I certainly hope not. And it's not like Spam won't be allowed to excise a pound of FH. We knew from the outset we would ultimately face a payback - we just wanted to avoid a two-front war while we were in Spam land ;). We just didn't dream neg rep would be resorted to. Ah, well. But don't worry - I can't imagine any FHers using a neg rep on any Spammers when the Hammer of Spam falls on us.
So now FHers have to sit and wait: when will it be? ;)
Oh, I'll give it one historical bump and be done, so any memory dump at this point will more than likely be effective.
---
#7
12 years ago
Someone neg repped you? That's weak=/ I didn't get any though, whew.
---
#8
12 years ago
Historical reference point bump - made only to provide context for a newer thread.
---