#1
8 years ago

[SIZE="2"]Ten Of The Best[/SIZE]
Well here it is, 10 issues! It has been a very emotional experience, with plenty of ups and downs. 10 is an important number, as that's how many fingers I have, and other things are 10 too. Like decanol. But, straight chain alcohols aside, this is obviously another issue of the Daily Syndrome. And they will continue to force themselves into the internet at random intervals, so apologies to those of you who don't like to read these. Although you could just not read them.
Today's Daily Syndrome contains yet more words, as if you haven't already been given enough. I really am generous. The words are placed below in the usual fashion feel free to have a brisk read of them, or at a more relaxed pace if you'd prefer. This newspaper caters to most reading speeds. It also contains at least one fact, and at least one fabrication. Although that sentence may be a fabrication, so you just don't know for sure.
As usual with the Daily Syndrome, you can join the Group, where you can find hundreds of posts (one) detailing how to become world famous. It also has a nice logo, so if that's something you like then I'd recommend it. You could even end up with your own article featured in a forthcoming issue! So, I suggest you get into there and put your fingers all over my join button.
[SIZE="6"]
Legibility - A Study
[/SIZE]
How much of what we read do we need to read? Everyone's heard of taht sudty ilnivonvg mionvg letters around within words, but keeping the first and last letters the same, and you can still understand what's being said. But how much of what we read to we really understand? And does the fact that you're able to read the words mean that a message is conveyed?
David Carson, graphic designer (in my opinion, one of the greats, but I won't go into that right now), once said: "Don't mistake legibility for communication". Or, as he put it:
We come into contact with so many words each day that we cannot possibly take them all in. And even if we physically read them, we can't be totally sure that sed lacinia, urna nec sodales it is all meaningful in any way at all.
Integer lacus urna, feugiat quis rutrum ac, rutrum sit amet nibh. Fusce eu felis augue. Sed in urna turpis. Mauris eget mauris in est laoreet commodo. Quisque vel libero eget neque elementum viverra id non magna. Aliquam odio ligula, euismod nec convallis id, varius non dui. Suspendisse odio odio, tempus ac bibendum vitae, adipiscing at libero. Vivamus tempus diam vitae dolor commodo viverra. Fusce turpis enim, rutrum ac tincidunt ut, adipiscing ac purus. Nulla tortor leo, molestie vel convallis non, volutpat sed massa. Donec facilisis mollis ipsum et accumsan. Suspendisse vulputate hendrerit sapien vitae tempus. Nulla rhoncus condimentum magna vel sollicitudin.
All of the words typed in this article are perfectly legible. The font choice is good, the colors don't stop it from being read, and all of the spacing is clear enough to be easy to distinguish between letter forms. So it should all be very easy to read. The problem is the comprehension, understanding what's written down. Some of the text in this article is complete nonsense, a mishmash of Latin words that don't go together. But, this doesn't stop the meaning of the individual words being understood, given that the reader knows Latin or has a translator at hand.
The problem is that there is a lack of context. Context makes understanding things simple, such as an unknown word in a sentence. A reader can deduce the definition based on how it is used in that sentence, and this is one way that people learn. So, reading things that may contain words you haven't encountered yet will broaden your vocabulary.
And that's why tl;dr people are stupid.
[SIZE="6"]
The Best And The Worst - Part 2
[/SIZE]
Welcome back to the Best and Worst awards section! Today we'll be focusing on the downright terrible, the absolutely despicable and the ineffably ineffable. Starting with Sounds. Sounds are everywhere, in a literal sense as well as a figurative sense. They are constantly coming into my ears, and often I don't know where from. Very confusing. So, of course, it's bad when you hear one you don't like, especially when you have no control over whether it starts or stops.
Usual suggestions for bad noises to hear include babies crying. This isn't exactly the worst one though, since it serves an actual purpose, and because of this won't even be discussed in this issue at all. Oh, I already did it? Never mind. Let's not discuss this again then.
The worst sound in the world is the sound made when you step on a mouse at night, but before you realise it's a mouse. When you think it still might be a small box, albeit a crunchy box. The tense moment is one of the worst feelings in the world. Which is why stepping on a mouse at night is a double award winner! For being both the worst feeling, and the worst sound. It's just probably best if you make sure not to stand on any mice, but if you do, please seek immediate professional help, as it is both difficult and expensive to remove the mental imprint of such an event.
I know this from terrifying experience.
And that concludes today's issue! You can help the Daily Syndrome by getting involved with a guest article, or just a few words that you want to be included. The details on how to take part are over at the Group page. Or, of course, you could head over to the FileFront Forums Tinychat room where I'm often sitting talking about ridiculous things.
Following this 10th issue, the Daily Syndrome will be taking a short break, and returning in a whole new style!
Today's newspaper was brought to you by: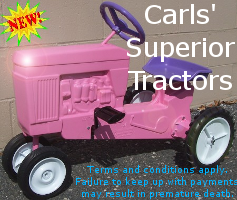 To advertise here, please contact Muse Syndrome by PM. Advertisements subject to terms, conditions and electrification.
Previous Issues: 1 | 2 | 3 | 4 | 5 | 6 | 7 | 8 | 9
---
16th August 2008
0 Uploads
#3
8 years ago
Perhaps you should set your release dates to once a week, to ease the burden on the writers.
---
#4
8 years ago
Whens number 11 going to drop? you got me on my toes.
---
#5
8 years ago
Mihail;5421168Whens number 11 going to drop? you got me on my toes.
He got me on my fingers!
---
#6
8 years ago
Mihail;5421168Whens number 11 going to drop? you got me on my toes.
to be honest i can't give a s***
---
#7
8 years ago
Never fear, loyal fans of the Daily Syndrome, the new ones are just around the corner!
---
#8
8 years ago
Muse Syndrome;5421447Never fear, loyal fans of the Daily Syndrome, the new ones are just around the corner!
can i featre in one i joined ur group
---