#1
10 years ago
[SIZE="2"]Reinventing the wheel so you can just roll with it![/SIZE]
Welcome, again, to the Daily Syndrome! The best way to explain this issue is to get a little abstract. Imagine that you are a farmer, and you hold in your hands several seeds. You will probably plant them, since you are a farmer and it is within your regular interests to grow things. You can think of these seeds as ideas. Over time, after the seeds are planted, they will grow into crops, which are useful to the farmer as they will provide food, or can be sold for their equivalent monetary value. You can think of these crops as words. The crops are then distributed to various places, with some degree of order, but also some degree of chaos. You can think of this semi-random layout of crops as ideas that have been grown into a collection of almost understandable words, in an order that is not entirely unlike the opposite of a newspaper.
As usual with the Daily Syndrome, you can join the Group, where you can find hundreds of posts (one) detailing how to become world famous. It also has a nice logo, so if that's something you like then I'd recommend it.
[SIZE="6"]
Please, Please, Please Let Me Get What I Want
[/SIZE]
There is a good reason that people visit shops in order to buy things. Historically, it is something that has happened before. Probably. I'm not really into history though, so I'm not sure what people did about getting things in the past. What I know didn't exist in the past is online grocery shopping.
Online shopping. Obviously there are advantages to the lazy, and also it is often possible to get things that would otherwise be hard to find. But don't make the mistake of ordering apples over the internet. Never before have I seen such a selection of Bad Apples, and they were, in all honesty, difficult to enjoy. It is clear that the Worst Apples are selected to be sent, so that the Best Apples can remain in the store.
However, there is no need to panic! For I have revolutionised the delivery of apples to a customer, using the Best Relative Apple scale. This can be abbreviated to the BRA scale. An apple will be selected at random by the shop, an average apple. This will be labelled APPLEZERO, and will represent the starting point of apples. The price will be set slightly below the regular price for apples at that store.
Then apples will be graded relative to this starting point, from -2 (APPLENO) to +2 (APPLEPRIME), and prices will have slight adjustments above and below APPLEZERO price. This means that different grades of apple will be separate products. The BRA can then be selected in an online form, and the consumer can rest assured that their apple will be delivered within a range that is provided. You can thank me later. My BRA size is APPLEPRIME.
[SIZE="6"]
Tuesday, The Wonder Boy
[/SIZE]
Tuesday is, for most people, a generally OK day. Not a lot specifically happens usually. Which is why I like it so much, as I have most of the day to do nothing. Not today, however. Today I was a test subject in a laboratory! I discovered conclusively that I am not human. With an average recorded resting heart rate of just over 230bpm, I am officially in the category of superhuman.
Unfortunately, after the machines had been reconfigured, it turns out that I am not special. In fact I am an average person, which makes me wonder what I'm going to do with all the costumes I bought. I spent a lot of money on that superhero branding! Never mind, there are probably people on The Internet who are into this sort of thing.
[SIZE="6"]
Competition
[/SIZE]
Every newspaper has competitions from time to time, and this is no exception. However, often newspapers give away actual prizes, and that's not a thing that will happen with this one. Unless everyone wants to give me money then maybe. Please give me money.
So, today's competition? Tiny Poetry! The objective is to make a post with a very short poem, no more than 2 lines. The prize for doing this is self-satisfaction, and the knowledge that you have the ability to write a very short poem. I've heard it's quite an attractive trait.
The best poem will be announced in tomorrow's issue, and I know what you're thinking. What a fabulously generous thing to do! Yes. It is. So go on, poem away!
Today's newspaper was brought to you by: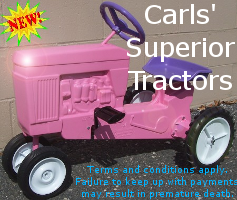 To advertise here, please contact Muse Syndrome by PM. Advertisements subject to terms, conditions and electrification.
---
16th August 2008
0 Uploads
#2
10 years ago
#3
10 years ago
The ad will run out after the next issue.
---
#4
10 years ago
Here's my poem: Tuesday, Today. Twoday?
---
#6
10 years ago
My poem:
Anal, Canal, Banal?
---
#7
10 years ago
clapclapclapclapclapclapclap clapclapclapclapclapclapclap clapclapclapclapclapclapclap clapclapclapclapclapclapclapclapclapclapclapclapclapclapclapclapclapclapclapclapclap
---
16th August 2008
0 Uploads
#8
10 years ago
Hm. I should've asked to put in an advertisement inviting people for a party to watch IraqFrica's demise through several HD TV's. Oh well, too late now.
---
#9
10 years ago
redgroupclan;5415938Hm. I should've asked to put in an advertisement inviting people for a party to watch IraqFrica's demise through several HD TV's. Oh well, too late now.
so is iraqfrica destroyed?
if it is im making my game
---
#10
10 years ago
I have to say, the standard of poetry happening here is startlingly high, I'm impressed!
---