#1
8 years ago

[SIZE="2"]"You are a newspaper.. writer.. something..?" - Kunrich[/SIZE]
Welcome to an extra special issue of the Daily Syndrome! Why so special? It's only because there are 2 writers today! That's right, issue #6 is the first issue to include a guest article, written by Mihail. But before that, here is the usual important information.
As usual with the Daily Syndrome, you can join the Group, where you can find hundreds of posts (one) detailing how to become world famous. It also has a nice logo, so if that's something you like then I'd recommend it. You could even end up with your own article featured in a forthcoming issue! So, I suggest you get into there and put your fingers all over my join button.
[SIZE="6"]
Slow Down!
[/SIZE]
If you want to be somewhere, then usually there will be a time you want to be there at. Time is important, as it lets different people know that they will be in the same place at the same time. All very efficient, yes. The only problem with time is that there is some filling the gap between different times, and from time to time (sha-pow) this gap can be fairly small.
For example, you have to attend a meeting with your employer which begins at 11:15. This is all fine, time wise, but of course it's about you defecating in the toasters again, so will probably end badly. But that is beside the point. You need to be somewhere for a specific time. This situation is complicated by another point, slightly later than the other one, you have agreed to meet your friend Joe for lunch, which kicks off early at 11:45. Joe is a big guy, and he is very tough, with little patience, so you're better off being there on time, or bad things will happen.
On paper, this all seems OK. Your employer has suggested that the meeting will take no longer than 30 minutes, which means that you'll be finished at the latest at 11:45. If you run, you may just be able to catch up with Joe before he kills somebody.
Wrong.
Joe is far away. He lives across the other side of town. Why did you make these ridiculous plans? You have basically no time to make the journey! If only there was a way to stop this from happening? You could try to be sensible with timekeeping, but then that's not for you, since you like to defecate in toasters. You're a wild one. Untameable.
The correct answer is to create a time machine. But, as we know, it's very difficult to manipulate time, other than generally forwards at a similar pace to real time, and in chronological order. We're adept at travelling through time slowly. The problem is making it even slower than this, but of course, clever sciency folks have an answer to this problem. Simply go faster. The faster you travel, the slower time goes from your perspective.
The next part of the plan is to make a light speed suit, to allow you to travel at the speed of light to get to where you need to be, both faster in speed and faster in time.
Good luck, if you succeed, I'd like to hear from you.
[SIZE="6"]
My New Front Ear
[/SIZE]
I have recently discovered a new ear. It is not located where it usually would be, instead nearer to the middle, on the front. Not exactly middling, but close enough to be said to be in the middle's whereabouts.
I'm not the first person to have discovered this extra ear. There's one in space too, but that's the final one.
I have a theory about space. And don't get all "Oh dear, this guy's crazy, he has a crazy theory, crazy guy alert!" on me, it's not a crazy one. Even if it was, I could pull it off as satirical, like I did with my competition winning article. Nobody realised I was totally serious then. Of course I wasn't...
Space is pretty big. We know that, because we don't have a ruler big enough to measure it. Anything bigger than a ruler is automatically big. At least that's what she told me, anyway.
So why don't we start putting things in it? I know that technically everything's in it anyway, but I mean move things from Earth up to space in plastic boxes? Is there anywhere more secure? It would be a very good way of solving storage needs. It would be very unlikely that thieves would get at your stuff, but we don't know how long it will be until space crime is a serious problem.
I wish I had that time machine now. I could charge people to store their things in the future. Now that would be business. Space would be useless to me then!
[SIZE="6"]
Indubitably [SIZE="4"]by Mihail[/SIZE][/SIZE] [SIZE="2"]Undoubtedly; unquestionably[/SIZE]
Where are the laws to ban mothers/fathers from carrying small crying children in locations where the masses are forced to conjure in day to day life? To be idle in situations where you could leave but that would void the reason for even going to these places in the first place? Standing in line at the shop, sitting in a cinema, restaurants and football matches?
The reason why the sound of a child crying so profound is to signal and trigger distress in fellow homo-sapien's psyche to come to either protect or take care of it's needs and that's exactly the last feeling you want to experience in any of these settings especially if it's during your own personal free time.
Undoubtedly; unquestionably we were all a screaming child at some point in our lives and by chance unless your a social reject chances are you will be a mother or father in the same position, but have some common courtesy and do the right thing and muzzle your babies.
Many congratulations and thanks to Mihail for doing this article, as he will become massively famous over the next 6 minutes, and it will likely change his life forever. I apologise for all of the fan mail you'll get, it gets easier to deal with once you build an evil slave robot to sort through it for you.
Today's newspaper was brought to you by: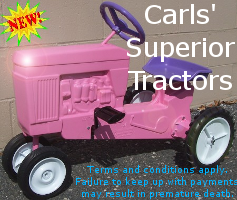 To advertise here, please contact Muse Syndrome by PM. Advertisements subject to terms, conditions and electrification.
Previous Issues: 1 | 2 | 3 | 4 | 5
---
#2
8 years ago
the quality of this daily paper just went up 9000%.... I wonder whats different.
---
#3
8 years ago
I was hoping that collaborating with a celebrity like you will increase the reputation of this newspaper
---
16th August 2008
0 Uploads
#4
8 years ago
Getting in touch with a celebrity? This is one hot newspaper!
---
#5
8 years ago
The bondage advertisement made it all the better.
---
#6
8 years ago
I want an article!
What is this I don't even...
xD
---
#7
8 years ago
As the Daily Syndrome continues, its fanbase is growing exponentially. The latest sales figures show a rising quantity being bought from Venus.
---
#8
8 years ago
is this leik piktures newspaper because there are too many words on the front page...
---