#1
12 years ago
I've taken the FF community (those who I'm familiar with and play(ed) DoW before) and put their personalities into DoW Characters... if anyone has any objections feel free to rant.
And if you want a different character. Sorry if I did not mention some of you.
Vasili- Warlord Gorgutz Wraithcat- Farseer Taldeer Darth Taxi- Dark Eldar Archon Tahril Lord of the marines- Governor Lukas Alexander Crisis suit- Shas O' Kais (tau commander from DC) Archmage cleps- The chaos sorcerer from the original DoW me- General Vance Stubbs Marshal Brant- Force Commander Davian Thule Lord of the Marines- Chaos Lord Krull
---
Sovereign002
Advanced Member
Adeptus Moderatus We purge with chain and bolter
105,915 XP
#2
12 years ago
Where's Wasturr?
---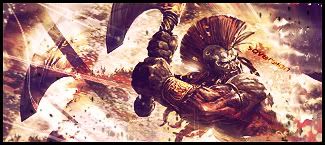 #3
12 years ago
yeah, forgot about him (haven't seen any of his posts in a while)
but I'll say
wasturr= Chaos Lord Eliphas the Inheritor
---
#5
12 years ago
I haven't seen that many of your posts, (so I wouldn't want to misplace you) but someone else could nominate a character.
---
#8
12 years ago
Sure thing, I'm going to bed anyway. It's way past midnight.
---
28th January 2007
0 Uploads
#9
12 years ago
#10
12 years ago
You answer:
Spoiler:
Show
Vasili;4213256You got no fucking choice.
:P
Why is Macha better?
---