#1
13 years ago
Congratulations! , by entering this thread you have agreed to adopt a goat from our selection at Goats Paradise.
Here at Goats Paradise , we believe in a safe and happy future for Goats around the World.Set up in 1978 , Goats Paradise have rescued and looked-after over 10,000 goats across the World.The number of wounded or neglected goats is rising every year and we will continue to help save them.By accepting adoption of a goat , your £10 a month will help costs towards,food , shelter, and vetinary care.With your help ,we are one step closer to providing goats of the World with a happy, and safe future.
Here at Goats Paradise we have several Goats up for adoption.Here is just 2 of the unfortunate goats that need your help.
Rosie:
We found little Rosie when she was just 2 months old.Her owners abanded her , and she was found the next time knocked down by a train,near death.She has now been at Pets Paradise for a year and has fully recovered thanks to adoptions.
Alfred:
Alfred was found in a bad condition last year, found wondering a deserted playground with a bottle on his head,he almost suffocated.Now he is happy again and living life to the full.
You can adopt a goat for only £10 a month,you will recieve a wonderful adoption pack that includes-
A certficate with a picture of your chosen goat. A monthly Goats Paradise magazine with the latest goat news. A Goats Paradise Pen and Notebook A Goats Paradise keyring And finally...safe in the knowledge that you are helping goats around the World.
Once again,we at Goats Paradise would like to thank you for adopting a goat through the kindness of your hearts.With your money we can make the World a brighter place for Goats.
If you would like further information on Goats Paradise,or have any queries they please do not hesitate to call us : Mon-Fri ,12pm-6pm
On - 01677 856776
Thank You
---
12th November 2003
0 Uploads
#3
13 years ago
#4
13 years ago
Dear , JackTheHammer
Thank you for your interest in Goats Paradise.We appreciate your interest and have noted your question.
Our Goat search engine has picked up on a goat in our database that has only recently joined us within 2 months.
Pinky: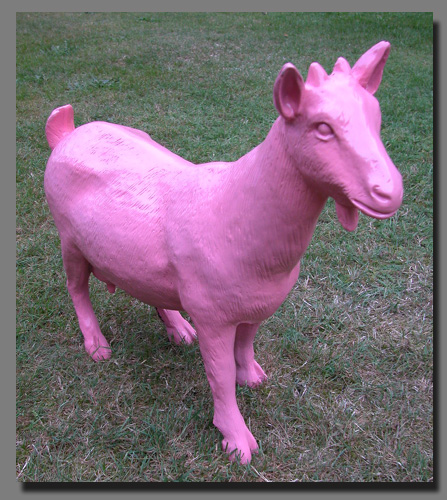 Pinky was found 2 months ago in a sad state in nearby DIY store.Tins of Pink paint fell on Pinky as she was wondering down the paint aisle.The paint cannot be removed now , but she seems happy as a pink goat at Goats Paradise.With your adoption , she will continue to live a hapy life.
Thank you
---
12th November 2003
0 Uploads
#5
13 years ago
I had my share of plastic and inflatable goats, thank you.
---
#6
13 years ago
I'd love a chocolate goat.
---
#7
13 years ago
Dear,Dipship
We are sorry to inform you that there are currently no choclate goats up for adoption within our goat database.However,we will inform you when we do recieve a chocolate goat.They are currently hard to come by in the summertime due to high melting rates.
---
16th November 2005
0 Uploads
#8
13 years ago
are there any that have scales
---
#9
13 years ago
Dear,Mr.Sinister
We are as yet unaware of any such Goat species in our Goat database.If you do come across any information however..feel free to PM me any information and we will find this scaly goat .
---
#10
13 years ago
My horse can have a goat to play with. I can just him chasing said goat all over the place nipping it on the rear as it runs for its dear life. lmbo
---