16th March 2004
0 Uploads
#1
4 years ago
The inferno of my vengeance fills you! It will burn you, my bearers of the holy word, it will fill your veins with power and fire until Ultarmar is in ashes. As my power flows in you, so too will I see what you see, feel what you feel and know what you know. With each death, I will grow stronger. With every fortress burned my reach will stretch further. You will be my army of dark righteousness. You will be the bloodborn and your name shall strike terror into the hearts of men! Spread throughout Ultramar and take my fire to the Ultramarines! Burn them from their fastnesses until no trace remains. This is my holy word! ----------------------------------------------------------------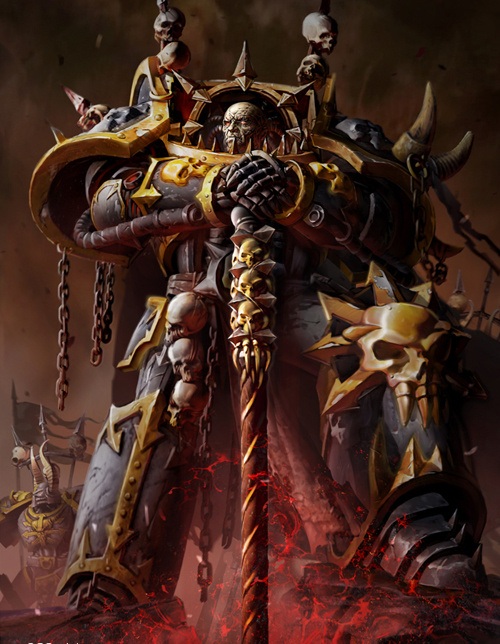 Hear my warnings, unbelievers. Carried to your minds by the power of the Prince of Excess himself. We have raised altars in this land so that we may sacrifice you to our gods. Veterans of ten millennia of unholy war wait to grind you beneath the treads of their mighty boots. The chosen of Khorne hunger to add you to their bloody tally. The Blood God himself has marked this land, and will claim your skulls for his throne. There is no hope in opposing the inevitable. Put down your arms, unbelievers, and bow before the forces of Chaos Undivided.
---
[color=#000000][size=2][b][i]Heralds of the coming doom, Like the cry of the Raven, we are drawn, This oath of war and vengeance, On a blade of exalted iron sworn, With blood anointed swords
10th September 2007
4 Uploads
21,746 Posts
1,754 Threads
#2
4 years ago
( ͡° ͜ʖ ͡°)
---
"I'd shush her zephyr." ~ Zephyr.
16th August 2008
0 Uploads
#3
4 years ago
Is your persona based on WH40k on all forums you post on or just this one?
---
16th March 2004
0 Uploads
#4
4 years ago
I am truly disappointed that the cruel fate has placed us in this position, such that I really have no choice other than to unleash my warriors against your population centers. If only you would lay aside these foolish hopes of protecting your resources and return to your homes and families, much bloodshed and woe could be avoided. Yet... there is still time, any who leave now will be spared and I give you my word that they will be granted free passage through the wastes. This offer of amnesty will stand for two of your hours before the terror begins anew. I can only hope that you consider your position carefully. Send forth a representative to discuss further terms if you wish, or several if you cannot trust one of your number to speak for the rest. I feel sure that all can be... accommodated.
---
[color=#000000][size=2][b][i]Heralds of the coming doom, Like the cry of the Raven, we are drawn, This oath of war and vengeance, On a blade of exalted iron sworn, With blood anointed swords