#21
11 years ago
And thEs es What I WanT the Boat To Look lyKe
---
29th March 2006
0 Uploads
#22
11 years ago
Aw shucks, guys, I'm gonna have to drop out. I just found out my grandma died when I was like 5 or something. My folks said she'd gone on a really long trip, so I figured she was just in like Italy or something chilling on some beach. But they just outright said they'd lied to me. I thought they were gonna say she'd made her way to Iraq and died saving a dog from an angry dung beetle. Damn, now I'm all sad and stuff. Anyway, hope this thing works out for ya. I made a metal texture you could use. But I'm not gonna let you release it if you don't credit me for it in the readme. Like, full credit like writing 'and this Jose Carlos dude made the reallybloodyawesomemetaltexturedudesyatta.jpg, which is our really bloody awesome metal texture that we used everywhere cause it's just that cool' or something along those lines. Anyway, here's the texture.
I think it could use some more lens flare, though.
---
#23
11 years ago
oH yOu mEn yOu waNt eAGle:
i dID sOmE Colr CoRRecTioN anD MadE thE EagLe loOk lIKe thE oTheR bIrd
---
#24
11 years ago
Dang. With Jose gone I've lost all interest in this mod. I really hope someone can pick up where he left off. It was looking soo great too!
---
#25
11 years ago
WHAT THE F*** !!!!!!! is this ...
---
#26
11 years ago
JosE!? YoU haS leeve? I VeRy Sad butT its Ok, I caN Do iT aloan. HeRes Konsept of Iland map...it'S goad but It neds monkees:
---
29th March 2006
0 Uploads
#29
11 years ago
Dude, where's the alien ship? You gotta have an alien ship in the sky there. Before it crashed, y'know? Like this, see?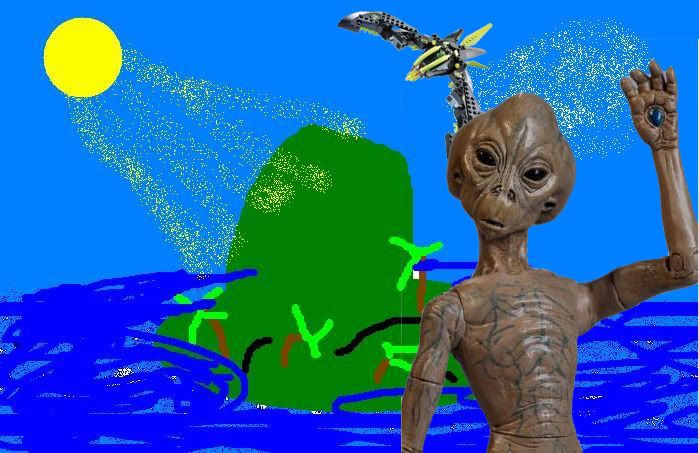 And planes, man! With big-ass snakes on 'em! And Godzilla fighting Space-Godzilla on the hill. And Tokyo! You can't have Godzilla without a Tokyo he could destroy.
---
#30
11 years ago
I do not think that will work. You need a big tree that the eagles will be in. Like this:
That will work. I have to go to bed now. Good luck on your mod.
---