#1
13 years ago
Just somthing happend round my mates. Tom is a cunt anyway but he is funny. some extracts from a conversation with thomes leatherbarrow, after he randomly turned up whilst me and alf were eating lasagne. i think really you have to be there, but the hilarity is unrelenting, he has this monotone drawling voice: tom: len, did you see run fat boy run with your girlfriend len: yeah tom: it's shit innit. what did you think? len: yeah, was quite a generic storyline tom: yeah it was shit. what did your girlfriend think? len: i think she thought it was ok tom: what did she say about it? len: i can't quite remember, i think she thought it was alright tom. it was shit. what were her exact words? len: i can't quite remember tom: you weren't listening to her. dickhead. where did you sit in the cinema? len: at the back tom: really? shiiit. can you remember which exact row? len: ummmmm, yeah, i think it was row N tom: shit. at the back? me and moynahan sat at the back. shit *ss to self* len: were you kissing? tom: yeah. shit, loads. did she try and kiss you? i bet cos you're a christian you were like, nah, i don't want to take it further when she tried to kiss you. i bet you were like fuck you. i bet she leaned in and you pushed her away. i bet you punched her in the face. oh dear. what are you playing at len? diiiick. well out of order. oh dear. wanker. now alf is cleaning up his plate of lasagne: tom: haha alf, you're a dick. there's nothing left. alf: laughs tom: diiiick. there's nothing left. dick. *i go to the fridge to look for some pudding* tom: ahhh len, you fat greedy bastard. looking for food in the fridge. ahhhh, what's he looking for? oh dear. dickhead. len: alf, do you want some of this apple pie? tom: diiiick alf: *laughing* erm nah tom: len you dick, are you going to ear all that shit? *i put cold apple pie in microwave* tom: dickhead, he's put it in the microwave. dick. *i look in the fridge for some cream and find some single cream, tom takes pot* tom: look, dickhead, it's basically milk. it's not cream. dick. just put milk on it. *i get apple pie from microwave and put cream on* tom: dickhead, creeeeeeam. hahaha wanker. cum on your apple pie haha *alf and tome discuss cycle rides* tom: alf come on a cycle ride on sunday alf: nah got homework tom: nahhh, dick. do it tonight. i'll go home. do it tonight. alf: nah, do it at half term or something tom: pussy. nah do it tomorrow. got to beat this *me*. he went to the city *we all start laughing* len: what city? tom: cornwall! hahah dick *we laugh hillariously at this* tom: my little brother beat us. we went to high wycombe, he cycled to petersfield with that peter kid. dickheads alf: i cycled to brighton tom: with your dad! dick. uh. it's a youth thing, can't do it with grown ups, i bet he gave you a backie alf: still further than you tom: dickhead. they were on google maps and they had this thing where it showed how far it was in centimetres. they did nine and we did 8. it's true. 9 centimetres. we just have to do one more. dickheads. yeah, i know, immmature. dickheads. i think really you have to be there, but these are the funniest conversations ever when you are there. if you know him, you will understand.
---
24th September 2007
0 Uploads
#2
13 years ago
Ok then...
---
Sovereign002
Advanced Member
Adeptus Moderatus We purge with chain and bolter
105,915 XP
#3
13 years ago
He says "dick" a lot. :lookaround:
I lol'ed at the google map thing though.
---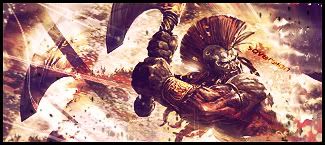 25th November 2006
0 Uploads
#4
13 years ago
Must be a fetish thing.
---
Signature brought to you by Carl's Jr.
#5
13 years ago
He is a nob head really but he can be funny somtimes.
---
#6
13 years ago
The moral of the story is: you all love dicks. :cort:
---