#1
8 years ago
So my sister just got back from a trip, she happened to buy 'invisible' pens while she was gone. You can write on something and than use the pen's built in flash-light to see what you wrote/drew.
There are a few problems with this, when me and my friends were 11/12, we too discovered these pens, and quickly went to work on what I now see as destroying my life.
Here are some things we wrote and drew on my walls:
-People we had crushes on at the time (we used the word love like there was no tomorrow). -We drew pictures of girls at school naked, or imagined how they would look naked. Not very detailed. BUT THERE WERE NAMES ABOVE THEM. -Our thoughts and opinions on our parents, teachers, and people we knew. -Random pictures of random things.
There is more, I'm sure - but I'm not exaggerating when I say we literally did this on almost every wall in my house, it took us a few weekends. Thankfully the maid washed the walls every now and then, but I can see just the faintest words, which leads me to believe everything is not well.
Does anyone know the absolute best way to wash a wall? I have work to do.
---
29th January 2005
0 Uploads
#2
8 years ago
Schofield;5623623the maid
Oh, OH, I see how it is! Too lazy to clean up your own mess?
YOU DESERVE EVERYTHING COMING TO YOU KID
---
#3
8 years ago
Does anyone know the absolute best way to wash a wall? I have work to do.
semen
---
#4
8 years ago
draw a treasure map in an easy to access place, when it is discovered the discoverer will hunt for the treasure, buying you time to demolish the building
---
#5
8 years ago
:rofl:
I think the best course of action would be to get some invisible paint and completely cover the walls.
---
#6
8 years ago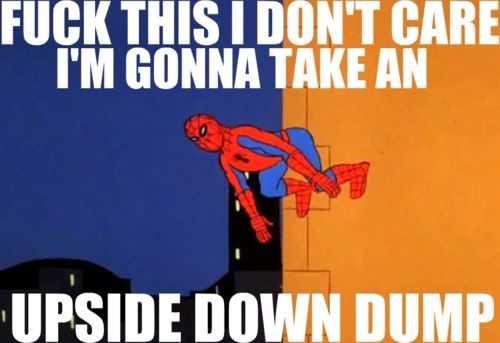 ---
Disclaimer: Personal opinions still not endorsed by Ryojin.