#1
12 years ago
Nein, nein, nien. Meine Schwester ist Vegetarierin. Whast to do?? :mad:
---
19th September 2004
0 Uploads
#2
12 years ago
Valess, meat made out of dairy!
Spoiler:
Show
---
#3
12 years ago
You're going to have to force feed her Mettwurst, Fritz. Mettwurst is a sausage made out of finely ground raw pork. Mmmmh....spread on bread it's delicious.
This example is Zwiebelmett, a sausage of ground pork and onions. Delicious.
---
#5
12 years ago
Stop it, Wiener! STOP IT!... I want it... NOW... oh god, this tastes so awesome :p
---
#6
12 years ago
I present to you....
the METTIGEL!!!!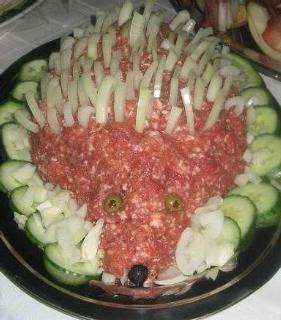 THE METT HEDGEHOG!!!!
---
#7
12 years ago
ARRRRRGHHH
/me is licking his screen
---
#8
12 years ago
Deutsche Wurst. Alles andere ist Käse ;)
---
#9
12 years ago
Bo ey! :eek:
ich gehe jetzt frühstücken... Teewurst tut's auch :p
PS: Alles hat ein Ende, nur die Wurst hat zwei! :lol:
---
#10
12 years ago
Stimmt, Frühstück hört sich gut an....nur leider habe ich keine Mettwurst. Aber Leberwurst tuts auch zur Not :p
---