#1
4 years ago
I watched it once when I was very little. Can somebody remind me the plot in a TL;DR fashion?
---
26th August 2007
0 Uploads
#2
4 years ago
Historically speaking, white people are dicks. TL;DR
Also, rainbows get colored by the wind or something at some point.
---
#3
4 years ago
I thought the wind got colored by rainbows.... Edit: DarthParrot, use your insane sci knowledge to teach us how the wind can become colored.
---
26th August 2007
0 Uploads
#5
4 years ago
Sure!
In general, "wind" is the large scale flow of gases. On Earth, the two major causes of this phenomenon are differential heat flow between the poles and the equator, and the Coriolis effect (loosely put, effects due to the rotation of the Earth).
There are two ways that I can think of to "color" wind. Either you bounce light off of it, or you get it to emit its own light.
For the first option, if we loosely consider the Earth's wind as just "the atmosphere," then the wind can be thought of as being colored due to Rayleigh scattering. Essentially, higher energy photons in the visible spectrum (the blue-violet region specifically) have a higher probability of being scattered in a diffuse gas than lower energy photons (the orange-red region).
See graph:
An interesting question that arises from this is "if higher energy particles have the highest probability of being scattered, then why isn't the sky violet?"
The question was raised in a recent XKCD comic:
Spoiler:
Show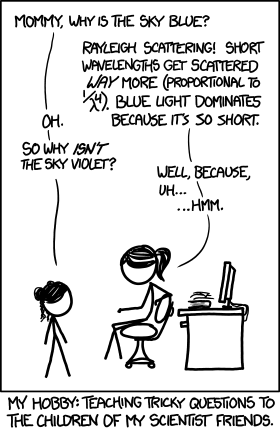 The short answer is that violet does get scattered more than blue, but your eye is more sensitive to blue light, and so you perceive the sky as blue. There is a longer, more complicated answer that has to do with how the cone receptors in your eyes work - but to mitigate myself from going off on a tangent, I'll simply direct those whom are interested in learning more to the following links:
Now, if we go back to thinking of wind as "flowing gas." There is another way that we can color it. We get it to emit its own light by ionizing it and creating a plasma! Now, the atmosphere is about 70% nitrogen, so if we prepare an nitrogen plasma discharge, it apparently releases a purple-ish color.
---
#6
4 years ago
You're awesome. Pocahontas' eyes are too, if she can see colors in the wind....
---