#1
10 years ago
And Elaborate.
Everything applies by your own standards of personality. The rating doesn't have to be numerical.
---
#2
10 years ago
A/Z It's not numerical. Your personality; I like it.
---
Sovereign002
VIP Member
Adeptus Moderatus We purge with chain and bolter
105,915 XP
#3
10 years ago
7.7/10 I haven't seen any bad from your personality. Even though most of your posts I've seen come from the TES forum. You're okay. =p
---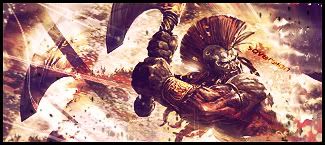 7th November 2005
0 Uploads
#4
10 years ago
10/10 how can i not like you sov
---
29th January 2007
0 Uploads
#5
10 years ago
I quite like you from what I've seen, though you seem like a somewhat introverted person, when the question at hand isn't beer. You tend to come out of the shell and fight viciously then. 9/10
---
#6
10 years ago
9/10
Ur cool, but you can also be evil, dark and vicious. Youre nice to new guys...
---
#7
10 years ago
Don't know you very well but from what I've seen...eh. 7/10. You're alright
---
#9
10 years ago
Yeah, I do, I'm all around Leisue games, General discussion and Halo forums. Oh and Spam. I've seen a lot of you. You're good, I give you 9/10
---
Sunray
Naked under his clothes
50 XP
23rd August 2006
0 Uploads
#10
10 years ago
9/10. Nice lass. I've seen her around in my lurking rounds (i.e. Halo and spam) and we've had a chat about linux where I was of no use whatsoever :). Sensible and can present ideas well and a likable personality. She's certainly doing well for herself here.
---