#1
13 years ago
GAMINGFORUMS.COM - A now banned member is claiming that he is a victim of supermod brutality after being charged with five counts of first degree spam advertising. The spammer, johndoesn, was apprehended yesterday afternoon after reports were received that advertisements were found in several forums. Supermoderator Ensign Riles was the first staff member on the scene. After quickly dispatching four of the five threads, Ensign Riles was seen entering the last thread in which the fugitive was hiding. According to johndoesn, he then attempted to surrender peacefully via an instant messaging program. At that point, the supermoderator allegedly simultaneously entered the Edit function and ModCP. "Don't Zombo me, bro!" was claimed to be heard by bystanders upon realizing that the peaceful surrender would not be accepted. The act of "Zombofying" an advertisement has become a controversial practice in recent months by staff members. It entails the editing of a URL that is in violation of forum rules to ZOMBO. Critics of the practice claim that the public humiliation that results is a violation of the most basic of members' rights. Forum historians disagree. According to multiple sources, it was common to link to pages such as the Teletubbies homepage and other embarrassing sites years ago. They also state that nowhere in FAQ does it claim that members have the right to avoid public humiliation. If the right were to exist, some claim that over half the posts would need to be removed from the forums. Proponents of Zombofication also argue that the practice is much more humane than the controversial permanent ban. johndoesn's claim of staff brutality is unlikely to make it towards the courts. After being Zombofied he was quickly sentenced to a permanent ban. Any attempt towards bringing this matter to the courts would in itself be cause for another permanent ban as ban evasion is considered a capital offense on the forums. No staff members were available for comment at the time of this article's publication.
---
#2
13 years ago
Related Articles: Forum Terror Level Increased to "X-Ray" - April 1, 2008 The Spam Forum 2003-2008 - February 5, 2008 Election Ballots Counted - Jan. 17, 2008 Riots Explode In Forgotten Hope Forums - Jan. 10, 2008 Debate Over Forum Post Measurement Escalates - Jan. 10, 2008 Referendum Scheduled On Forum Holiday - Jan. 8, 2008 Administration Lambasted On "Amnesty" - Jan. 4, 2008 Permanent Bans Unethical According to Unaffiliated Affiliation Party - Oct. 30, 2007 Today Marked As First Annual Search Day - Oct. 24, 2007 Kidnapping of Party Leader a Misunderstanding - Oct. 22, 2007 Forum Terror Level Increased to "Ultraviolet" - Oct 19. 2007 Bovine Lesbianism Labeled Chief Cause In Declining Value Of Spam - Oct. 11, 2007
---
#4
13 years ago
:lookaround:
---
25th November 2006
0 Uploads
#6
13 years ago
I want my bouncing tits.
Or Chippy's Lamas.
zombo is just too commercialized.
---
Signature brought to you by Carl's Jr.
#9
13 years ago
I VOTE!! uhh...
I vote for Sheila, the Big Tank Lady.....
---

17th December 2005
0 Uploads
#10
13 years ago
Vote Haggar!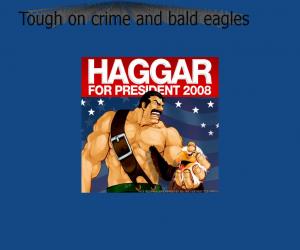 ---